21
Apr, 13
Meet Elizabeth of SquidWhale Designs.  I first stumbled across her on Instagram, and instantly fell in love with her textiles and accessories.  She's incredibly talented and strives to create lasting items for men, women and the home.  One of my favorite qualities about her is that she also tries to be as eco-friendly as possible.  You know this is dear to my heart and so important to me.  Now that you know what she creates, lets take a peek and see where she creates.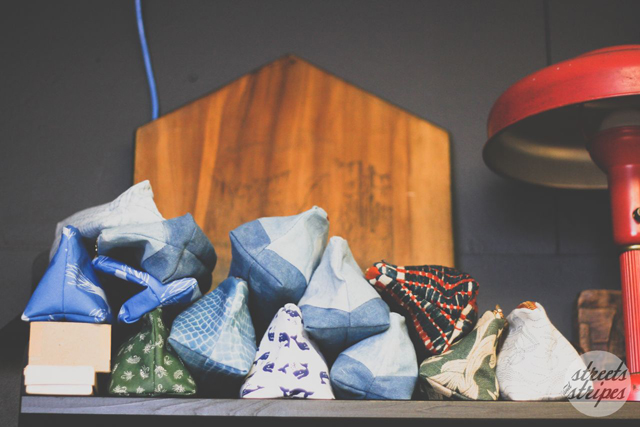 1. How long have you been designing textiles and sewing? What is your inspiration to create? And how did you get started?
I went to Moore College of Art & Design in Philadelphia, PA, earning my BFA in Textile Design. I enjoy the methodical, contemplative nature of working with textiles, be it dyeing and printing or weaving. I've worked on my sewing since starting SquidWhale a couple of years ago because I have always wanted to see my textiles become objects.
2. How do you juggle the 9-5 with your creative small business?
This is a constant balancing act between my day job, my business and trying to make sure I attend to my health and family. I try to always put in 20+ hours a week into my studio work, and spend time during my lunch hour at the office each day working on the social networking/researching end of business. I will spend time working on my home computer sometimes (I try to make home time non-work time, but there's always some overlap).  To reach my 20+ hour studio goals, I work on the weekends as well as weekday nights. I'd not be able to do this without the constant support from my husband. He cooks and cleans and even does my laundry, so that I'm not some dirty weirdo eating beans out of a can.
3. Where's your studio located? and why?
My studio is located in South Philly a couple of miles from my apartment in West Philly. It's near my gym, which is convenient for when I need to shake off the cobwebs from a day at the office or take a break from being boxed in the studio too long. My studio is in a building full of other artists and I share my space with an artist friend. I enjoy sharing a studio because I'm regularly re-inspired by my studio-mate.  Being a part of the flourishing artistic community in my building is also very inspiring and encouraging. Many of us are working towards similar goals of being full-time artists/designers/makers. We share knowledge and experience and organize a couple of art/craft events each year as a team. I find this kind of community invaluable to staying focused on my larger goals. They're also a wonderful group of friends whom I value greatly.  I find it's helpful to keep the studio outside of my home so that when I do spend time at home, it's focused on my husband and spending quality time with him and our dog in our beautiful neighborhood.
4. Are there any items that you like to keep close while you create, for inspiration?
I have a library in my studio of inspirational books about textiles, textile history, the ocean, ships, whales, life on the high seas and more. I like to take some time to research ideas while drinking some french press coffee, which keeps me going. I have the vintage items from my shop on shelves on display above my computer and the wall next to my desk is a mottled old pegboard that I use as a background in my product photos. I enjoy keeping these things around me to help me focus on the work I want to accomplish. I will also display my fabrics in the studio so that I think about them when I'm working. I'll often figure out what I want to do with some fabric just by staring at it.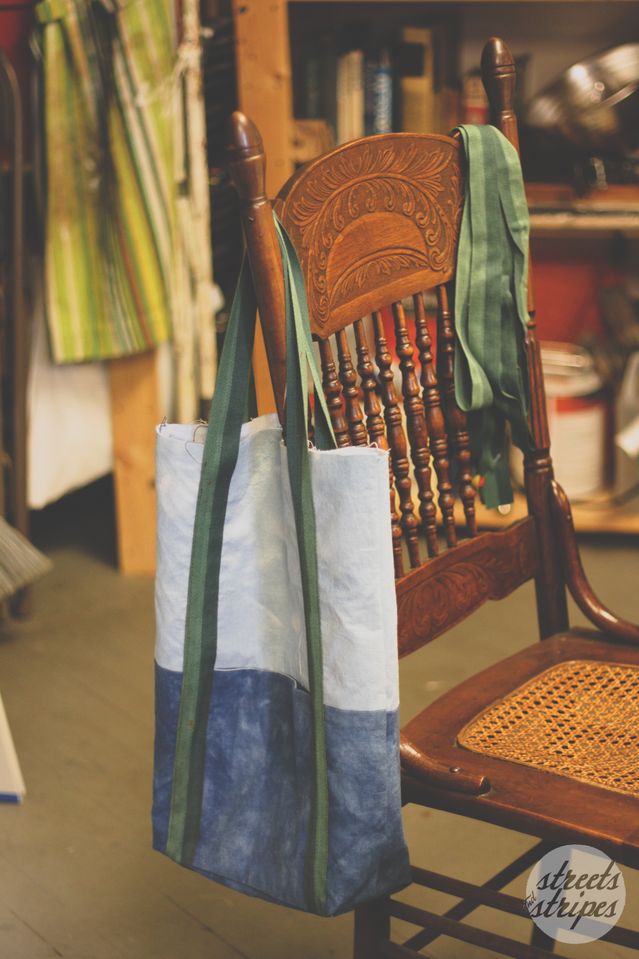 5. What's your favorite part of your studio space? Why?
I have a few favorite areas of my studio. I love my indigo dye works area and feel very excited and creative when I'm dying fabrics and experimenting with shibori & resist methods or block printing on top of the dyed fabric. I love the window by my work table for the sunlight and fresh air. And lastly, I love the comfortable chair we have in the studio, so when I have to rip out something I sewed incorrectly, I can sit in comfort and relax while watching a TV show
on the computer.
6. Do you have any future plans for your studio?
My studio is very small, which is great for keeping overhead low and keeping me from junking up the space. Sometimes I do feel that I'm outgrowing it, especially if things keep growing at the rate that they are. My hope is that in the next couple of years a larger studio will open up in my building and that I'll be able to move into it. I'd like to set up a larger dye works, working with other natural dyes beside the indigo. I'd also love to have a proper floor loom to work on woven yardage for accessories and large tapestry art pieces. I'd also like to have some good space for plants.
7. Do you have any tips or advice on how to maintain an inspiring and functional workspace?
Don't be afraid to re-work your space, several times. Setting up shop is difficult and requires regular evaluation. Pay attention to how you move and use space and if something isn't working, find a solution that does work.  Your space has to be a happy, enjoyable place to be or you won't want to work there. Make things organized, comfortable and stocked with things to keep you going. And always clean up after your day in the studio so that you arrive in a fresh, ready-to-work space. Your future-self will thank you.
•••••••
Elizabeth, thank you for taking the time to put together the photos, with the help of Chaucee Stillman of Streets and Stripes, as well as sharing details about your space.  I just recently started making a real effort in cleaning up my studio at the end of each day, and I agree, it's an amazing feeling to walk into a fresh space the next day.  I'm also glad to hear that you have such a supportive, close and creative community.  I love that you all make an effort to get together on a regular basis and network.  I hope a larger space opens up for you to continue to grow and I can't wait to see what you do next.  Thank you again for sharing your studio and a peek into your creative life.
•••••••
Visit Elizabeth around the web: Site | Shop | Pinterest
{Photo credits: Streets and Strips}