18
Nov, 12
What a wonderful Sunday.  It's nearing close to Thanksgiving and I've invited Brittni to share a bit of her new studio!  You've heard of a little site called papernstitch, right?!  Haha, okay, well, if you have, then you know it's not so little.  Brittni has created an inviting place to not only exhibit your handmade goodies, but you can also sell them!  She recently moved into a new space and is getting settled, but she's able to share a peek into where she spends much of her day.
1. How long have you been managing papernstitch?  What was your inspiration to create it?
It's been a little over four years now since I started papernstitch. I've always had a passion for art and handmade, as an artist myself, so the site evolved from that passion. Overtime, the blog has grown to include other topics like biz tips for creatives and DIY projects, while the exhibition site remains focused on art, handmade, and vintage finds.
•
2. When did you realize that you were onto something?  Did it grow quickly or take time to build?
Much to my surprise, the site grew very quickly at the beginning, thanks to a lot of great press mentions. But over the years, it has been a mixture of slow and fast growth.
•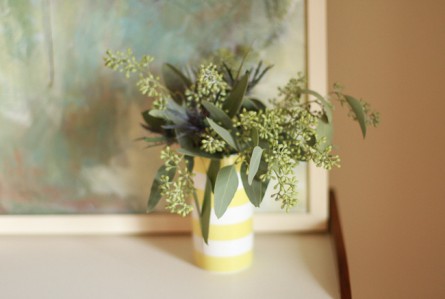 3. Where's your studio located?
I work from home in Jacksonville, Florida. The hours are long, but I love being able to spend time with my dog while I am working or go for a walk around the park when I need to clear my head.
•
4. What's your favorite part of your studio space? Why?
I spend a lot of time at my desk and it was a gift from my husband, so it's probably my favorite part of my workspace. But it's also kind of the only part of my workspace right now. We're still settling into our new place and getting everything set up.
•
5. Approximately how many hours per day/week do you spend in your studio?
I usually work between nine and twelve hours a day. Some days less. Some days more. It really just depends on my list of to-dos for the week. On the weekends, I try to get out of the house and step back from the computer. It doesn't always happen, but I make the effort.
•
6. Do you have any future plans for your studio?
We just moved into our apartment about a month and a half ago, so things are still very much in the 'work in progress' phase. Lots of plans for the future, for sure.
•
7. Do you have any tips or advice on how to maintain an inspiring and functional workspace?
For me, inspiration is all about a clutter-free workspace. If I'm having trouble concentrating, I usually tidy up my desk or move everything off of it completely. When I feel like I have a blank canvas, the ideas flow a lot easier.
•
•••••••
•
Brittni, thank you so much for taking a moment from you hectic schedule to share a peek into your new creative space.  I love how bright and cheery your desk area feels, and your husband has good taste in furniture.  Once you get more settled, please let us know so that we can do a follow-up post!  So fun.  Congrats on your new space and I can't wait to see what you do next!
•••••••
Be sure to visit Brittni: Exhibition Site // Blog // Pinterest // Twitter // Facebook // Instagram
— promote your work + shop for handmade www.papernstitch.com get inspired www.papernstitchblog.com