11
Nov, 12
The weather is very cold and snowy here in Central Colorado, and to me, that means perfect timing to grab your morning coffee and read about another inspirational studio!  Beth and I met a bit ago on the web, through Twitter I think, and I just love to check in on her once in a while to see what she's painting.  Today Beth is sharing where she illustrates her adorable works, and I know you'll love the cozy feel of her space.  So, let's get to know her and her space, shall we!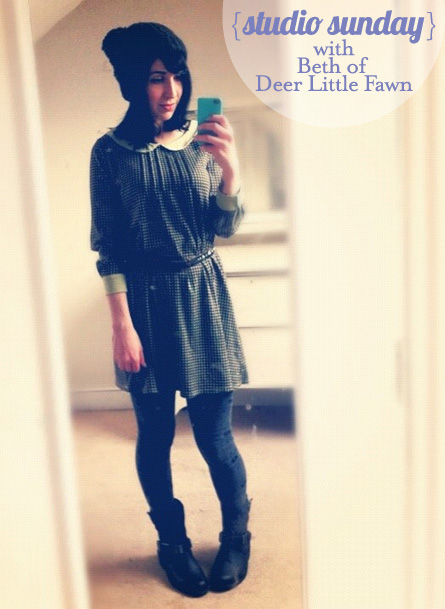 1. Tell me about yourself.
Hi! My name is Bethan, but on the internet I appear more often as Deer Little Fawn, which is the name of my lifestyle/craft/illustration blog. I can also be found on my website Forest Lodge Illustration(named after my childhood home). I live by the sea in the South of England, UK. When I'm not drawing or crafting in some capacity I work part-time at a large flea market, selling antiques, vintage items and furniture.
2. How long have you been illustrating?  What's the inspiration behind your work?
I've always kept sketchbooks my whole life and drawn on an almost daily basis, but I've had many full-time non creative jobs along the way that I've had to work around. It's taken quite a long time to build my confidence up and start putting things out there and at the moment I'm still finding my feet. I worked in a tattoo studio for a few years and that influenced my work quite a lot – style wise, but after leaving there it definitely took on a more cutesy aesthetic.

3. Where's your studio located?
I'm lucky enough to currently have a room at home to use as a dedicated craft/studio space, this is a first for me and I'm very appreciative of it.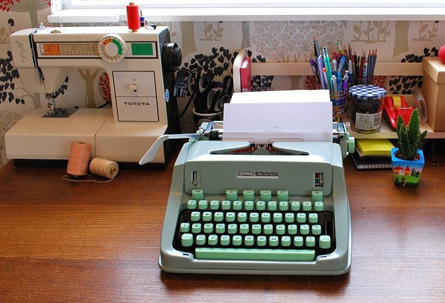 4. What's your favorite part of your studio space? Why?
After living in quite small places for much of the last few years it's just really nice to have enough room to spread my things out and have an actual desk to work from. Also it gets quite a lot of natural light which is lovely!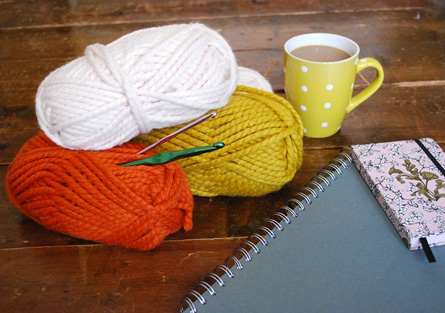 5. Approximately how many hours per day/week do you spend in your studio?
I tend to duck in and out of there throughout the day, it depends on what I'm doing that week really, the convenience is one of the blessings of having it at home.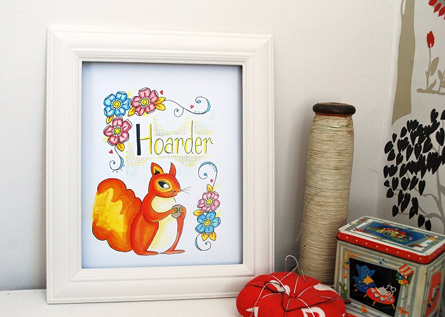 6. Do you have any future plans for your studio?
I'm just enjoying the space as it is for now. There is a fair chance I will be moving house again next year, so I'm making the most of it while it lasts!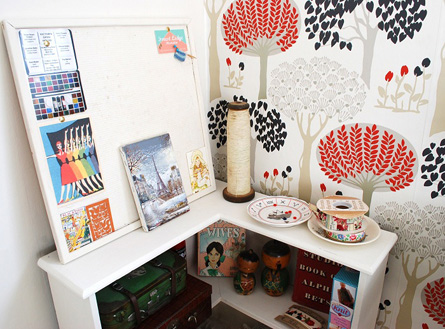 7. Do you have any tips or advice on how to maintain an inspiring and functional workspace?
I think however small your work space is, even if you are just working from a bedroom as I have in the past, it's good to surround yourself with things you find inspiring to look at, even if all you can do is put up a few pictures or postcards around you, I find every little helps when keeping inspired and creating a place where you feel happy. Storage wise, I love suitcases and vintage vanity cases and have collected quite a few over the years and I find them so useful for storing sketchbooks, yarn and craft supplies.
•••••••
Beth, thank you so much for allowing us to peek into your creative world.  I just love the cozy feel of your studio – the natural light really makes it.  I personally love having my studio in my home, because, just as you said, it's convenient.  And now that you've mentioned it, I can see the influence that the tattoo shop has had on your work.  Your work is beautiful and so is your space.  Thank you again for sharing!
•••••••