09
Dec, 12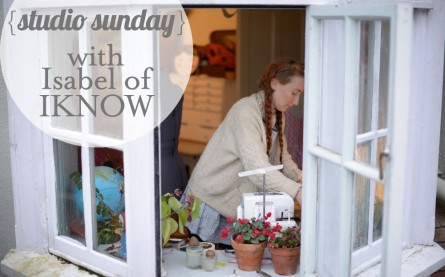 It's that time again where we get to peek into the studio of a very talented creative.  This week we have the honor of chatting with Isabel, of IKNOW Clothing.  You may or may not have been familiar with her beautiful clothing until now, but once you see her work, you'll never forget it.  She's super skilled with a needle and thread.  Lets see where her magic happens in her sweet little studio tucked away in Devon, England.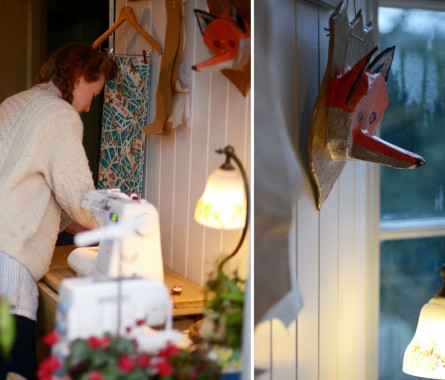 1. Tell me about yourself.
Oh gosh, I am not very good at describing myself, but I'm sure everyone says that. I'd say I'm pretty normal, I enjoy doing all the homely things like sewing, cooking, eating & watching TV, bonfires, junk shopping & doing nothing with friends. At the moment I am lucky enough to be able to concentrate full-time on making things for a living, be it a very small one! I do a few other bits & bobs throughout the week like volunteering at our local CSA & do other freelance sewing jobs that aren't to do with my own label.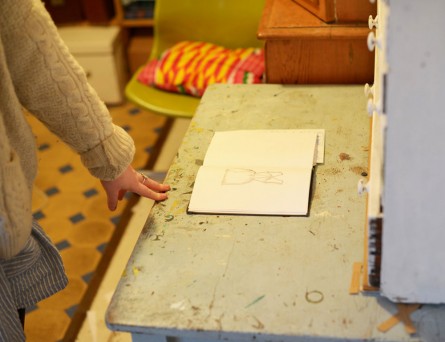 2. How long have you been making clothing? What's your inspiration?  When did you decide to start selling your clothing?
I'm not quite sure when exactly I started making clothing, but I'd say it has definitely been a passion of mine for as long as I can remember. When I was little I wanted to be a 'fashion designer' but I never thought I'd really do it, not that that is what I'd call myself now, although I suppose I am? In my own funny way. I feel like I never 'decided' to sell my clothing, it just sort of happened, & people started buying stuff, I still don't quite believe it. I went from wanting to be a dress-maker, to an artist, prop maker, cinematographer, then an architect & I think that physiologist was in there at some point too, probably be in a band as well… I still don't rule any of those out as future jobs…
Last year I bought some gorgeous fabric from my local fabric shop to make myself into a dress, I went home & looked up the designer & found she sold wholesale organic cotton. I bought a few bolts & it just seemed to start from there. I often find I can be inspired by fabric itself, & I am quite an obsessive fabric buyer/hoarder (I hid a lot in the photos). I'm inspired by the past a lot, I also love costume in TV, theatre & film & one day I would like to work in someway in that area.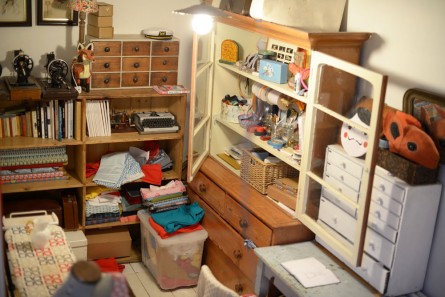 3. Where's your studio located? and why?
My studio is in a back upstairs room of my house. I live with my parents (which I never like admitting) but I am very lucky to have such a beautiful space & it is a neat little room with everything I need in it. Before it was just a room which got piled with old junk that nobody wanted to keep or throw away, so it is so nice to give it back a use. It can be difficult working from home, but I try to get out of the house every day to help my sanity & have a little break.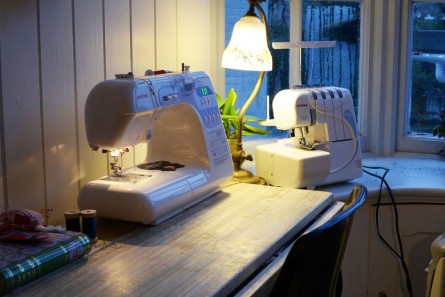 4. What's your favorite part of your studio space? Why?
The favourite part of my studio is the step up into the window bay. I don't know why, probably because it is where the heater is. I often find myself sitting on the step doodling or hand sewing whilst listening to the radio, it can be a nice break from machine sewing & it just feels nice to perch there.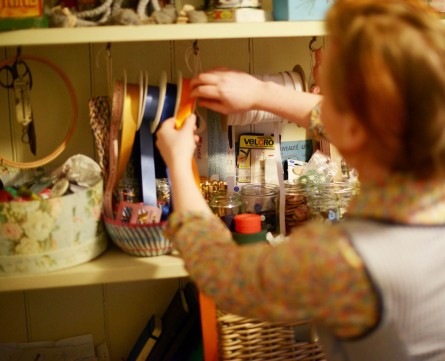 5. Approximately how many hours per day/week do you spend in your studio?
This is such a tricky question as it varies a lot! Some days I will not go in at all but be doing computery work or sketching in the kitchen or something, & other times I will go into my studio for days (& nights) on end only emerging for tea & biscuits. I work a lot in the middle of the night, I am definitely not an early bird so I aim to be in my studio by 10am most days, have a break in the middle of the day & then go back to work until 2/3 in the morning.
6. Do you have any future plans for your studio?
I have a few plans in the near future to make the space more manageable, small things like making some curtains to keep out the cold, & making a rail to hang my dresses as I make them. In the long-term I don't quite know, I often map out the perfect studio in my head & feel anxious for change, but then I think how lovely it is to have a creative space of my own. I eventually would like to have a big shed with everything in it, because I'm pretty obsessed with sheds & I do think it would be nice to be able to work away from home. Who knows, perhaps a little studio/shop one day!
7. Do you have any tips or advice on how to maintain an inspiring and functional workspace?
I really don't know, I would say the main thing is, don't force yourself to try & be creative, it never works. If you are feeling bored & uninspired take a walk or go & talk to someone, it often makes things so much clearer. It's tricky if you are working from home, on your own especially, put the radio on so it feels less lonely, & don't beat yourself up if you don't get everything you wanted to finished (I should really try & take my own advice). Also, I find if I have a big list of things that feel like they are looming over me & I really just want to do a creative un-work related job then just do it, it can make you feel so much better & more motivated to work on the real task in hand. But, you know, don't take my advice, I'm pretty messy & disorganised… 🙂
•••••••
The lovely dresses photographed below are Isabel's Poppy dress & the Foxglove dress.  I'm in love with these!
•••••••
Isabel, thank you so much for taking the time you took to really answer each of my questions with truth and spunk.  I really appreciate your time in taking all of these lovely photos, too!  It's so exciting that you were able to turn an unused room into a creative wonderland.  Your bay window is to die for.  Your dresses are so lovely and I know that you'll be able to have your own little shop one day.  You just wait and see!  Skill is learned, but talent and passion have to be in you to create.  You definitely have all three.  Thank you again for your time and for sharing your special space with us.

•••••••