02
Dec, 12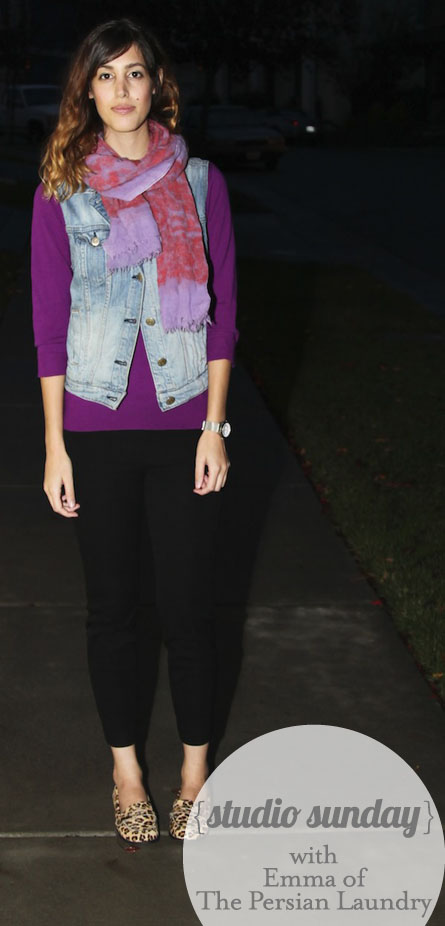 It's the first Sunday of  December and what better way to start off the day than with another {studio sunday} feature!  The Persian Laundry is an online shop that specializes in hand produced and custom-fitted envelope liners and other fine stationery.  Classic Stationery and accessories for the modern heart.  Emma Alimi is the 24-year-old owner, producer and curator of The Persian Laundry.  The first time I saw her glitter envelope liners, you know I was hooked.  So, lets meet her and peek into her space, shall we…
I've been interested in creating art since I was young, playing around with stencils, markers and glittery stickers. During high school and junior college I concentrated in Photography/Fine Arts.  After school I took some time to travel, try new things and learn outside of my textbooks. Having that gap period provided me with valuable experiences and lots of insight into what I'm passionate about.  The Persian Laundry started as an evening project. I put my first items up for sale in March 2012 and the name is inspired by my Iranian heritage.
During weekends I started mixing and matching different envelope liners and envelopes. I loved creating unexpected combinations of texture, color and glitter. I felt like envelope liners could be more unexpected and interesting than what I found at most stores around me. I decided to set up a shop on Etsy where I could be a part of a larger hand-crafted community.  I don't think there was a specific moment when I knew that glitter and fine paper could be a job. I think it was an evolving process of delving into the things that excite me the most and taking chances.
How long have you been creating your stationery? What's your inspiration? 
For The Persian Laundry, just shy of 11 months!  My inspiration comes from so many things. My hometown, Persian Miniature Art, Punk Music, European Poetry and Palladian Architecture to name a few.  I'm drawn to rebelliousness, elegance and surprise. 
On to your studio, where's it located?
My studio is located in my parent's house in Santa Rosa, California. I was originally using my bedroom but quickly outgrew that. 
What's your favorite part of your current studio space? Why?
More space, the natural lighting and a larger work table.
Approximately how many hours per day/week do you spend in your studio? Is this your only job?
I'm in here 5-7 days a week. However when I'm responding to emails and doing computer work I try to head to my local coffee shop instead.
Do you have any tips or advice on how to maintain an inspiring and functional workspace?
Great lighting, keeping things organized and fresh flowers are always nice. I find that taking midday walks and changing the pace by heading to a coffee shop can be refreshing.
Do you have any future plans for your studio?
I just moved into this space 72 hours ago! It meets my needs right now as a growing shop and allows for more growth within the next year. In the future I'd love to get a big loft-like space.

•••••••
Thank you so much, Emma, for taking the time to share your super new and fresh studio!  I know that you worked so hard and quickly to provide all of your lovely photos and details.  I think my personal favorite part of your space is definitely your natural lighting!  It's hard to come by.  I'm so happy to hear that you're off to a good start in your small business.  Keep doing what you do and thanks again!
•••••••
Be sure to visit Emma's  Shop | Blog | FB