18
Nov, 11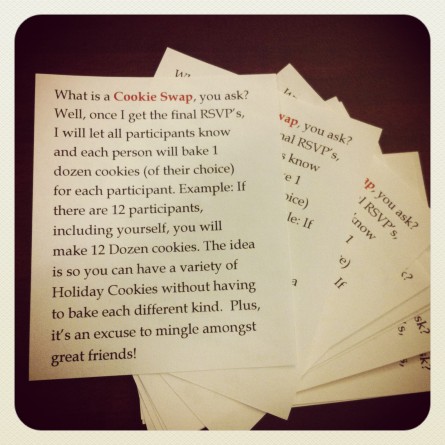 Welp, it's that time of year again… that's right, Cookie Swap time!  A group of us have been doing this cookie swapping for the past 6 years now and it such a wonderful time.  For the most part, it's been the same group of ladies, but we have had a few drop out and a few join, but on average, we have about 12 to 15 ladies each year.  We have so much fun baking and exchanging.  Everyone does it slightly different, but the main idea remains the same: each person leaves with a variety of cookies!  We have altered it slightly throughout the years, but here's how we do it…
After we get the RSVP total, we let each participant know how many people will be attending (including themselves) and that's how many dozen each person bakes of their recipe of choice.  So, for example, if we have 15 participants total, then each person will bake 15 dozen cookies.  By the end, each person will leave with one dozen of each cookie to take home and share with family and friends.  It's great, because you leave with a variety and you didn't have to buy all of the different ingredients and bake a variety by yourself.
We used to have each person RSVP with the recipe they wanted to make, so we would be sure that no one made the same kind of cookie.  We changed that last year and decided that no two recipes taste exactly alike, so sometimes we overlap, and that okay!  I love to see what everyone comes up with, because this is a creative bunch.  This year we are venturing into cupcakes and candy too, so it should be fun.
My favorite part of the Cookie Swap is when we all gather and exchange our goodies over some snacks, hot drinks and lots of laughter.  I can't wait!  I think this year my mom and I are going to make chili and a brie dip.  Then we will have tea, cider and hot coco…nom nom.
We will indeed miss my grandma this year, as she has been a part of it every year.  She will remain in our hearts and we will always remember what a blessing it was to have shared those special moments with her.
I'll be sure to post about the swap in early December.  Our Swap is on Saturday December 3rd… so we have a bit of time.  How about you, have you ever done a Cookie Swap?  If so, share what you do differently, if anything.  ♥ RobbieLee
21
Dec, 10
So this years 5th Annual Cookie Swap was a success!  We had 14 ladies bake their hearts out to share with each other.  There were so many different recipes and flavors, it was unreal, and delicious.  Ron and I had them all gone in a week and a half.  Yum yum.
So, I tried this Weight Watchers Pumpkin Chocolate chip recipe that I found on Two Blonde's Walk Into a Gym, and although they were ugly, they tasted so yummy.  I wasn't sure how this recipe was going to pan out, but it blew me and my guests away how moist and flavorful they were!  Go Weight Watchers, woohoo!  Not only was this the easiest (by far) cookie recipe that I've ever made, but is also probably the healthiest… he hee hee.  Below are step-by-step instructions on how to make these scrumptious little cookies, so enjoy.

Above Images: 1. The ingredients that you see here is all you need, seriously!  No eggs, no milk.  I made 14 dozen cookies, so I needed more than one batch.  One batch makes approx. 48 cookies.  You will need 1 box Spice Cake Mix, 15 oz can pumpkin (not pumpkin pie mix, just straight pumpkin), and 1 cup chocolate chips.  that's it! 2-4. Mix the ingredients one by one into a small bowl. 5. Scoop mix by the tablespoon onto a non-stick cookie sheet and bake at 350° for 12-14 min.  Let cool foe a few minutes on pan then transfer to cooling rack. 6. Enjoy!
Visit Two Blonde's Walk Into A Gym for the nutritional values.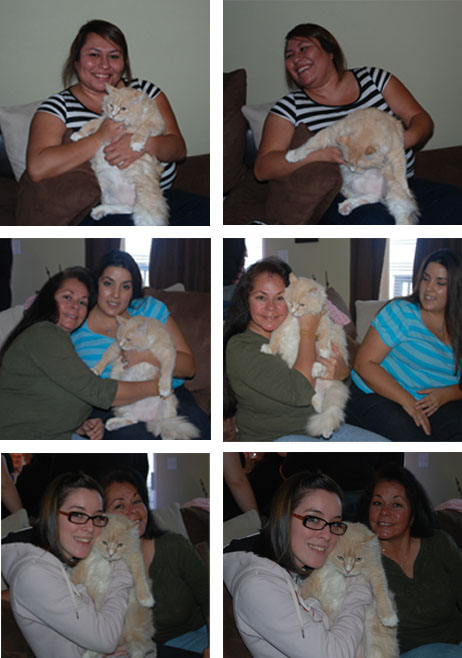 What was a bigger hit than the cookies you ask?  Well, that would be my cat Brutus James.  He should have had a red carpet at this event because all of the ladies were swooning over him.  They all asked for photos with him!  He loves the ladies and all of the attention that comes with them.  He was such a hit, even my pal Jessica (top) loved him and she's not a big fan of animals.  He worked his charm, that's for sure.  My mom and cousin are in the middle photos and that's my mom and sis in the bottom ones.  So cute!

Here is a photo of this years ladies!  Can't wait until next year!

Funny thing, my friend Ben invited me to his cookie swap too, so I participated in two lovely swaps this year!  Crazy, I know, but this one only had us baking 8 dozen…heeheehee.  Oh, that's my hubby Ron, trying to take the credit for baking all of these goodies.  Don't be fooled by his charm though. 🙂

Night all!
ox RobbieLee
30
Nov, 10
I'm so excited about this years 5th Annual Cookie Swap!  We are expecting 15 participants, so that's 15 dozen cookies each – equaling 180 cookies each!!!  I've already heard a few of the ladies saying that they have already began baking!!!  I will probably start Thursday and hope to finish by Friday.
I plan to try a pumpkin cookie recipe… thisone to be exact. It seems super healthy and easy (considering that I will have to make 15 dozen of them!)
I will go buy the ingredients tomorrow and hope for the best.  Have you ever done a cookie swap before?  If so, I'd like to hear about it.