18
Nov, 11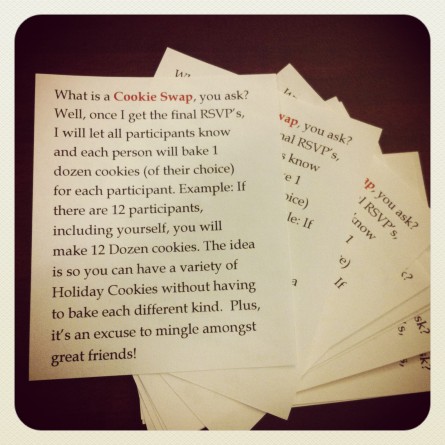 Welp, it's that time of year again… that's right, Cookie Swap time!  A group of us have been doing this cookie swapping for the past 6 years now and it such a wonderful time.  For the most part, it's been the same group of ladies, but we have had a few drop out and a few join, but on average, we have about 12 to 15 ladies each year.  We have so much fun baking and exchanging.  Everyone does it slightly different, but the main idea remains the same: each person leaves with a variety of cookies!  We have altered it slightly throughout the years, but here's how we do it…
After we get the RSVP total, we let each participant know how many people will be attending (including themselves) and that's how many dozen each person bakes of their recipe of choice.  So, for example, if we have 15 participants total, then each person will bake 15 dozen cookies.  By the end, each person will leave with one dozen of each cookie to take home and share with family and friends.  It's great, because you leave with a variety and you didn't have to buy all of the different ingredients and bake a variety by yourself.
We used to have each person RSVP with the recipe they wanted to make, so we would be sure that no one made the same kind of cookie.  We changed that last year and decided that no two recipes taste exactly alike, so sometimes we overlap, and that okay!  I love to see what everyone comes up with, because this is a creative bunch.  This year we are venturing into cupcakes and candy too, so it should be fun.
My favorite part of the Cookie Swap is when we all gather and exchange our goodies over some snacks, hot drinks and lots of laughter.  I can't wait!  I think this year my mom and I are going to make chili and a brie dip.  Then we will have tea, cider and hot coco…nom nom.
We will indeed miss my grandma this year, as she has been a part of it every year.  She will remain in our hearts and we will always remember what a blessing it was to have shared those special moments with her.
I'll be sure to post about the swap in early December.  Our Swap is on Saturday December 3rd… so we have a bit of time.  How about you, have you ever done a Cookie Swap?  If so, share what you do differently, if anything.  ♥ RobbieLee