21
Dec, 10
So this years 5th Annual Cookie Swap was a success!  We had 14 ladies bake their hearts out to share with each other.  There were so many different recipes and flavors, it was unreal, and delicious.  Ron and I had them all gone in a week and a half.  Yum yum.
So, I tried this Weight Watchers Pumpkin Chocolate chip recipe that I found on Two Blonde's Walk Into a Gym, and although they were ugly, they tasted so yummy.  I wasn't sure how this recipe was going to pan out, but it blew me and my guests away how moist and flavorful they were!  Go Weight Watchers, woohoo!  Not only was this the easiest (by far) cookie recipe that I've ever made, but is also probably the healthiest… he hee hee.  Below are step-by-step instructions on how to make these scrumptious little cookies, so enjoy.

Above Images: 1. The ingredients that you see here is all you need, seriously!  No eggs, no milk.  I made 14 dozen cookies, so I needed more than one batch.  One batch makes approx. 48 cookies.  You will need 1 box Spice Cake Mix, 15 oz can pumpkin (not pumpkin pie mix, just straight pumpkin), and 1 cup chocolate chips.  that's it! 2-4. Mix the ingredients one by one into a small bowl. 5. Scoop mix by the tablespoon onto a non-stick cookie sheet and bake at 350° for 12-14 min.  Let cool foe a few minutes on pan then transfer to cooling rack. 6. Enjoy!
Visit Two Blonde's Walk Into A Gym for the nutritional values.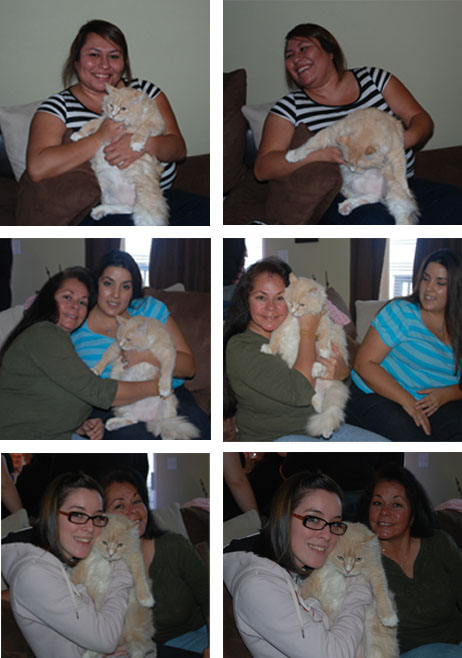 What was a bigger hit than the cookies you ask?  Well, that would be my cat Brutus James.  He should have had a red carpet at this event because all of the ladies were swooning over him.  They all asked for photos with him!  He loves the ladies and all of the attention that comes with them.  He was such a hit, even my pal Jessica (top) loved him and she's not a big fan of animals.  He worked his charm, that's for sure.  My mom and cousin are in the middle photos and that's my mom and sis in the bottom ones.  So cute!

Here is a photo of this years ladies!  Can't wait until next year!

Funny thing, my friend Ben invited me to his cookie swap too, so I participated in two lovely swaps this year!  Crazy, I know, but this one only had us baking 8 dozen…heeheehee.  Oh, that's my hubby Ron, trying to take the credit for baking all of these goodies.  Don't be fooled by his charm though. 🙂

Night all!
ox RobbieLee