26
Nov, 11
Oh boy this was a fun project (and easy too!)!  I got the cozy template from Purl Bee and added some extra flair with embroidery thread.  Here is how Purl Bee explains it and below is what I did.  I can't wait to use these as stocking stuffers for all of the coffee drinkers in my group.  They will love them!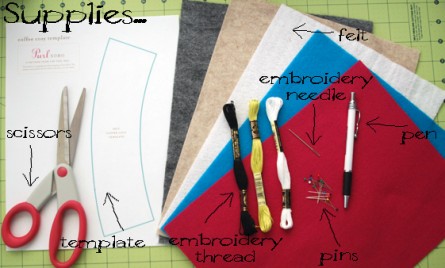 Supplies: scissors, Purl Bee template, embroidery thread, embroidery needle, pins, pen, and felt (I used eco felt made from recycled bottles).
1. Print out, cut and trace the template onto the felt.  Purl Bee recommends doing this "assembly line" style and I agree.  It makes it a lot easier and faster.
2. Before you sew it closed, I fold the felt in half and stick a pin in the center to mark it.  Then open it up and sew your design or add buttons, applique, etc. between the edge and the center point.  You really can do whatever you want in this step, so make it unique!
3. Then I fold it in half and pin in closed.
4. Then stitch the cozy closed.  you can use a zigzag stitch, straight stitch, blanket stitch or whatever kind you want.  Note: be sure to sew closer to the edge, so you don't make the cozy too narrow.  you want it to fit the cup properly.  If you don't own a sewing machine, no worries.  You can easily stitch it closed with embroidery thread.

5. And… voila!  You're done.  Now you can take your cozy anywhere, and they are washable.
I hope you enjoyed this post and if you make some, be sure to share!  I want to thank Purl Bee for sharing such an easy and wonderful project!
♥ RobbieLee