19
May, 14
Happy Monday!  Okay, so I love Nixon and their products.  In fact, I just bought Ron The Corporal SS Watch for our 11 year anni, and he loves it.  I recently started using my Nixon bag for my everyday carry-all, and I looove it!  It's deep and wide enough to carry all four of my sketchbooks, wallet, planner, and whatever else I can throw in there.  I particularly love the soft texture of the bag and the single strap with a 3-snap closure.  Plus, its super cute and the blue color goes with everything!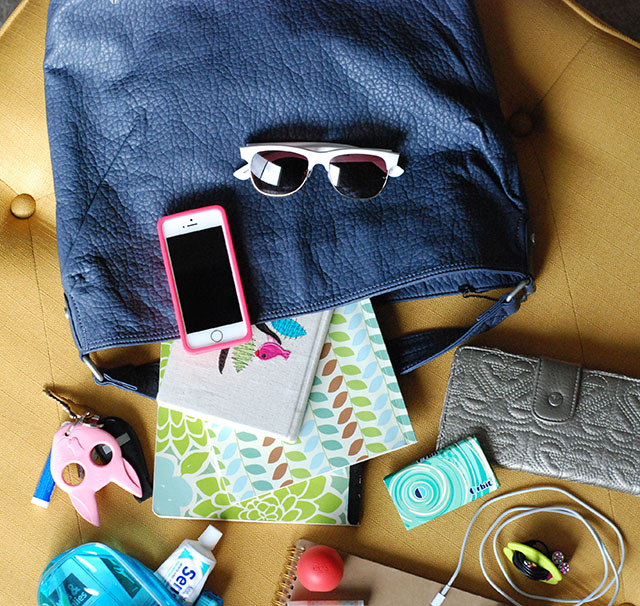 Here's what currently lives in my bag:
• 2014 Planner (Target)
• 4 sketchbooks
• Pens: 1 Hot Pink Gel Pen by Poppin; 1 purple Sharipe; 1 purple Papermate
• Roxy wallet
• My handy braces care kit (toothbrush, toothpaste, floss, wax, rubber bands, etc.)
• EOS Lip Balm and my Emerging Thoughts lip balm
• Headphones and cord wrap (given to me by my BFF, Jessica!)
• Sunglasses
• iPhone + Charger
• Keys
• Gum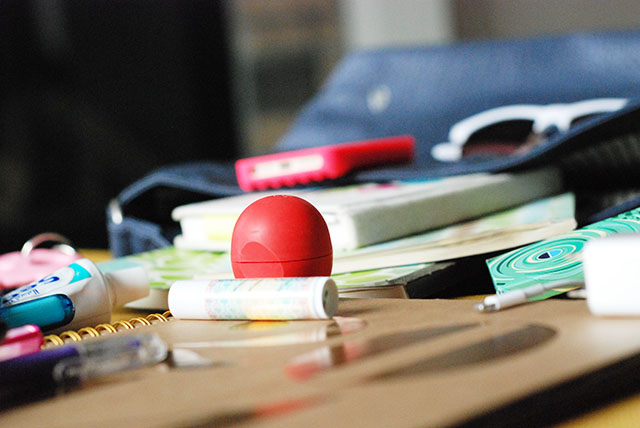 By the end of the week I may have a million and one other things in there, but for now, it's staying very organized.  Impressive.
30
Mar, 12
I am so excited to have finally bought a new bag!  I've had my old one for about 3 or 4 years now, so it was time.  The handles on my old one were starting to crack and snag my clothes, so that's when I decided it was okay to move on.  When I first saw this lovely white bag, it was the giant bow that instantly attracted me to it!  It's so cute and pretty girlie!  My second thought was, "how long is this going to stay clean?!" followed by, "who cares!  It's stinking cute!" heehee Oh, how cuteness can turn my logic upside-down…
Anyhoo, here's what's in my new bag:
1. My cute bag is Red by Marc Ecko: Happy Days Hobo.  It has a lovely red lining with a zipper pocket and two cubby pockets.  Perfect for storing all of my tiny gadgets…
2. I can't leave home without my wallet (Reaction – Kenneth Cole) and checkbook (Roxy)… yes, I still need to write checks these days.
3. Sunglasses are a must for these sunny and bright days!  Oh, and I love my pink zebra case!!! (glasses – forever 21 + case – unknown)
4. I always carry my planner, sketchbook and a pretty pen.  This way I can keep track of life and jot down my ideas before I forget.
5. Keys + my awesome cat key chain that is for safety purposes.  The Mr. found that for me at the Tanner Gun Show this month… so cute and functional!
6. My trusty iPhone, ear buds and charger… I need them wherever I go to stay connected to you!
7. One of the many little Ninjas that my brother gave me when he was young.  He gave me all of the purple ones since they were my favorite color.  I have one in every bag that I own… they make me feel happy and safe.
8. Clinique Happy perfume… love the fresh Spring scent.
9. Burt's Bees Lip Balm… no chapped lips on this girl.
10. Gum and a handmade coffee cozy… just incase!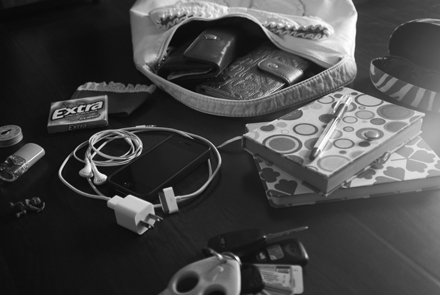 I hope you enjoyed peeking into my bag!  Have a great day! ♥RobbieLee