05
May, 12
This Sunday we are taking a peek into a very sweet and talented lady that just happens to live a few towns over from me!  If you aren't familiar with her creations, then take a minute to visit her shop and blog.  I promise you'll fall in love.  With that said, lets get into it and meet the lady of the day…
1. Who are you and what do you do?
Hello everyone! My name is Rebecca and I am the lady behind

manzanita

: a handmade shop and blog. I live in Boulder, CO with my new husband and little dogs. I spend most of my time trying to be as creative as possible and taking photos every step of the way.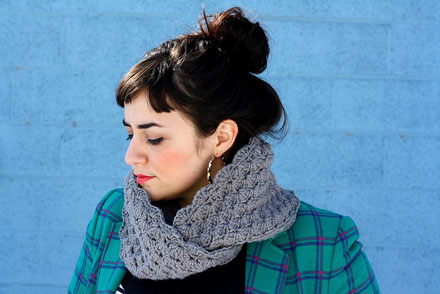 2. Where is your studio located?

At home, my hubby and I bought a small mobile home a couple of years ago and for now we use the second bedroom as a shared office. It is quite the small space so we have decided that building an extra space for each of us to have our own room is something that will have to happen very soon. For now I mostly use the office as place to keep my materials and I do most of my work in the living room or at the kitchen table.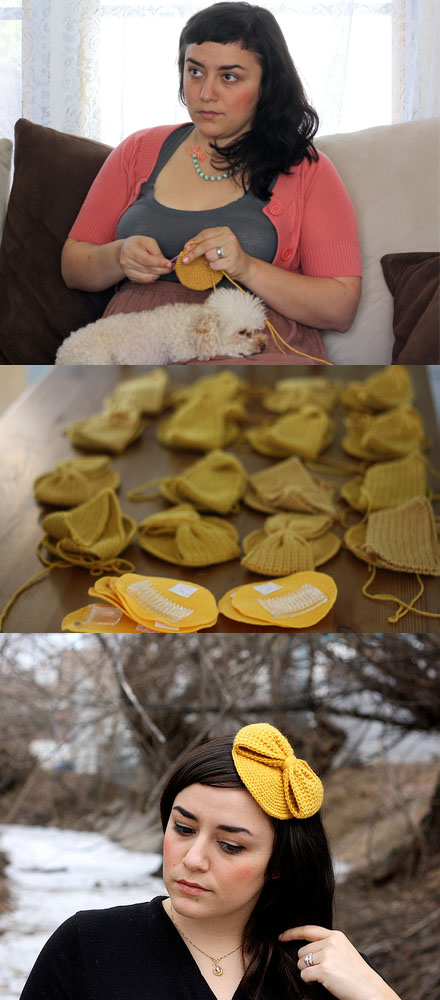 4. What is your favorite part of your studio?
My favorite part? I would say it is a toss up between my wall of books and my wall of yarn. Both things make me extremely happy and just looking at them keeps me inspired to always be reading, writing, or crocheting. I really like to see my passions displayed in a pretty way.
5. Approximately how many hours per day do you spend in your studio?
In my actual studio not much. Since I work so many places, I would say I can usually bring my studio with me where ever I go. I spend about 3-5 hours a day crocheting or working on the

blog

. On top of a full time job! I don't usually have a lot of free time.
6. Do you have any future plans for your studio space?

Yes! My husband and I plan on building an addition to our home this summer. If it works out the way we plan, my studio will be where our current living area is. One of the biggest and most well lit rooms of the house. I really excited about this!
7. Is there anything else that you'd like to share?
Thank you so much RobbieLee for having me here to chat a little about my process and work space!
You are very welcome, Rebecca!  Thank you for sharing your beautiful and colorful studio!!!  I also really enjoyed looking at all of your lovely crocheted pieces.  I love that there is truly something for everyone in your shop and the colors are so vibrant.  You do such beautiful work and it was nice to peek into your creative world.  I can really see how much love and attention to detail that you put into not only your creations, but your beautiful space, as well.  Thank you again!
So, if you haven't already, checkout Rebecca's

shop

, and if you already have, then go back!  ♥RobbieLee