22
Apr, 12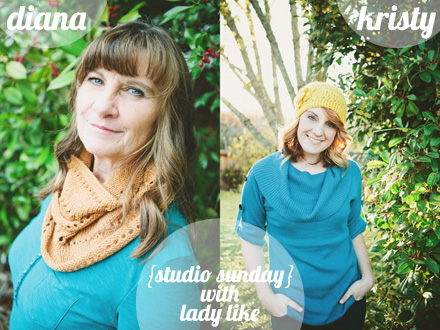 Today we have the two lovely ladies of Lady Like sharing their unique studio space.  As you know, my momma and I love to craft together, so it's always nice to see family working together towards the same dream.  I hope you enjoy this feature as much as I do!

••••••••••
1. Who are you and what do you do?
Hi! Our names are Diana and Kristy and we're Lady Like.  We're a mother-daughter duo who create knitted and crocheted headbands, scarves, and cowls for women, children, and infants.  Kristy's a professional photographer and blog designer; she handles product design and inspiration and the technical side of the business.  I'm the creator of the products in our Etsy shop. We love to brainstorm on colors, fibers, and new ideas.

2. Where is your studio located?
This is the hardest question to answer! Seriously, my studio these days is the couch! Did I just say that out loud? From the time I remember knitting and crocheting, I had my little corner of the couch and there I created.  With the need to have a space to keep most of our yarn, threads, fabric, pre-made headbands and cowl, our spare bedroom became a studio–all our yarn inventory, sewing supplies, shipping items within fingertip reach. We also have a craft room where we stock our inventory and supplies. It's a sunny room to work in when the couch just won't do. Another part of our studio is at various locations for photo shoots.  That's where Kristy's able to capture such beautiful pictures of our models wearing our products.

3. How long have you had your current "studio" space?
We've been using this space for about two years.

4. What is your favorite part of your "studio?"
Although we have a designated craft room, I enjoy the comforts of working on the couch, watching favorite shows On Demand while my needles and hooks are clicking away.  I also like being in the studio space where I sew our fabric bags that we ship all our products in.  The sun shines so brightly through the front window and I get to watch the seasons change before my eyes. 

5. Approx. how many hours do you spend in the "studio?"
Most of my time is spent in my creative spaces working with the yarn fibers. I probably knit and crochet 3 to 4  hours a day.  I probably sew about 3 hours a week when I need to make our gift fabric bags. I really do love being in both places. 

6. Do you have future plans for the space?
I have reworked the craft room space many times and each time it gets better.  I'm sure it'll be time to revamp it again soon. I have plans to add some photography to the walls that my daughter Kristy has taken from all over the world for inspiration. The craft room is a sunny space with a big window to enjoy the beautiful outdoors here in Oregon. It's almost as pretty as working outside when you have a view like that.