23
Sep, 12
 I can't believe that it's Sunday already!  This week really flew by, but I'm glad that it's Sunday, because I get to share a very sweet and talented young lady's studio with you!  I'm sure that you've seen her drawings and prints, as well as, read her blog once or twice.  So, I know you'll enjoy this week!  Enough jabber, I'll let you take a peek.
1. Who are you and what do you do?
My name is Kate Gabrielle, and I'm a full-time illustrator. I run the Etsy shop,

Flapper Doodle

, where I sell my drawings and things with my drawings printed on them 🙂 I also blog at

Scathingly Brilliant

and am a proud cat mom to my kitties Hypatia, Chloe and Hubble!

2. Where is your studio located?

My studio is actually located in my bedroom! I have an 11′ x 11′ room, and one wall is devoted to my studio!


•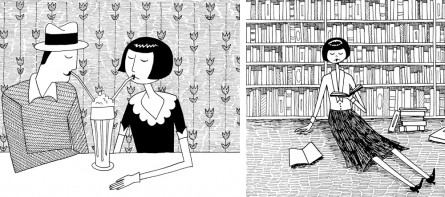 3. How long have you had your current studio space?
I've had this room since I was six years old, but it only morphed into a bedroom/studio hybrid in 2009, when I started working on

Flapper Doodle

.
•
4. What is your favorite part of your studio?
I love the things that I have hanging on my walls… artwork, little souvenirs of fond memories and notes from family and friends. Everything serves as inspiration for drawing, but since this is also my bedroom I like that it creates a warm, cozy, familiar place to unwind and relax as well 🙂
5. Approximately how many hours per day do you spend in your studio?
Oh gosh… except for the times that I'm eating or out of the house basically 24/7! In addition to my studio, I also turned my closet into a small office space with my computer, printer, scanner, etc. so pretty much everything that I do each day takes place in this one little room!
6. Do you have any future plans for your studio space?
Eventually I'm planning on getting my own place and spreading out a bit, but honestly I love my room so much that I'll probably end up recreating it almost exactly the way it looks now! Except maybe having a separate room to sleep in… that would be nice 🙂
••••••
Kate, thank you so much for sharing your special little studio!  I love the colors that you've chosen to surround yourself with.  They do give a soft and cozy feel.  I also like the way that you chose to utilize your wall space to the max!  You've proven that it's not necessarily the amount of space that makes a successful studio, but it's how you use your space – clever girl!  I hope that this has inspired other creatives to use what they have and use it well.  Thank you again for your time, it was so fun featuring you! ♥R
••••••