21
Oct, 12
Today I'd like for you to meet Christa of Willow + Company.  She is unstoppable and with her attention to detail, it's no wonder why she's moving ahead full steam.  Her studio is something to be proud of and I'm sure we can all find some inspiration from it, as well as from her story.  Oh!  And she has a treat for you at the end of this interview, so be sure to take advantage of her offer!
1. How long have you been creating your wool felt cases for your Willow and Company shop? What's your inspiration? When did you decide to start selling your work?
You never know what life is going to throw at you, one day you are working on a project and the next on something completely different.  Reinvention is the key word in my lifeline.  After many successful years building custom homes, my husband and I suddenly found ourselves needing to reinvent our livelihood.  We also sought out an outlet for our creative juices.  Enter Willow and Company.  It was in the autumn of 2010 that we noticed a need in the market for better design when it came to laptop and tablet cases.  We focused on Apple products, iPads, MacBook Air and Pro and iPhones, but we also make custom cases for all the other types of tablets and laptops out there.  Our design inspiration was drawn from our knowledge of architecture.  Each case mimics design elements from architectural details.  For example, our Colonial cases mimic the symmetrical design of American Colonial style housing.  Our Baroque cases highlight the sexy curves of the Italian Baroque period of design and our London and Rugby sleeves are out interpretation of Modernism.  We love the inspiration architecture offers us. 
In addition, how long have you been creating for your other shop, Case in Pointe?
When it comes to my Case in Pointe shop, that simply boils down to my love of colorful things, as you can see from my studio and my Pinterest board, named "Color Schemes," I love all things colorful.  And, although making my wool and leather sleeves is enjoyable work, I needed more color in my life.  Case in Pointe offers me the opportunity to create colorful cases and sleeves for the rest of us who must live with colorful items in our lives.  These book covers and sleeves mainly focus on iPads and tablets, but I have also made a few custom pieces for other types of laptops.  I love the mix of the crisp colors with the rustic handmade walnut buttons that secure the devises my sleeves carry.  The combination of these two shops has kept us pretty busy.  Now that my husband is back in the home building game I am holding down the fort on my own and it is a challenge that I enjoy.  I am approaching 1000 sales on my Willow and Company shop and I can't wait for my other shops to reach that same milestone.
2. On to your studio, where's it located?
My studio is lovingly named "Studio Duo."  Together my husband and I are a force to be reckoned with, creatively speaking that is!  He is warm and traditional and I am modern and colorful.  Together we are eclectic to say the least.  Studio Duo is located in the basement in our home in sunny Atlanta, Georgia.  When we started all of this we were working out of our condo in Chicago, which we quickly outgrew.  We decided to move to Georgia to be closer to family (although we miss Chicago terribly—that really is home) and this change has afforded us the opportunity to make use of a much larger space for our studio.  This isn't your typical basement though.  It has tall 10 foot ceilings and opens up to a beautiful forest.  Although the space would qualify as being unfinished, to me it is sufficiently rustic—reminding me of loft apartments back home in Chicago.  All it needs now is an outdoor patio area so that I can sew outside during the temperate weather so common here in Georgia.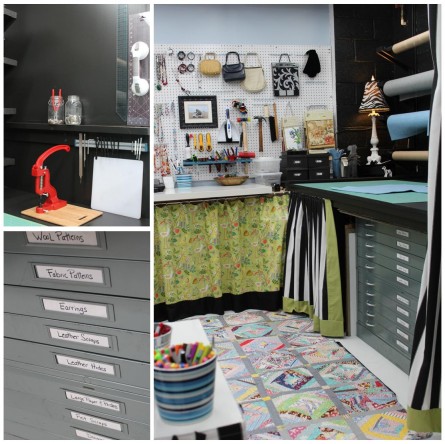 3. What's your favorite part of your current studio space? Why? 
I actually love my whole space for different reasons.  I love that I can throw open the garage door and let in the sun and fresh air.  I love my built in cutting table with the large drafting drawers underneath for storage.  And I love having my sewing tables set up in a cozy cubby-like area where everything is within reach.  But I must say, most of all I love being surrounded by all the colorful items in the space.  Just walking into Studio Duo makes me smile and puts me at ease.  Being in the basement makes me feel like I am in my own cocoon.  I can blast music or dance around and no one pays me any attention – it's like my own private secret hideaway.  Feel free to check out more pics of my studio as I post them on my Facebook page.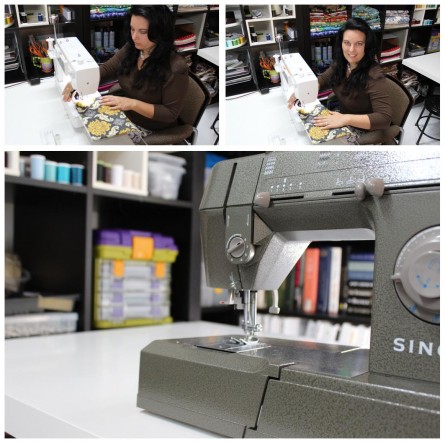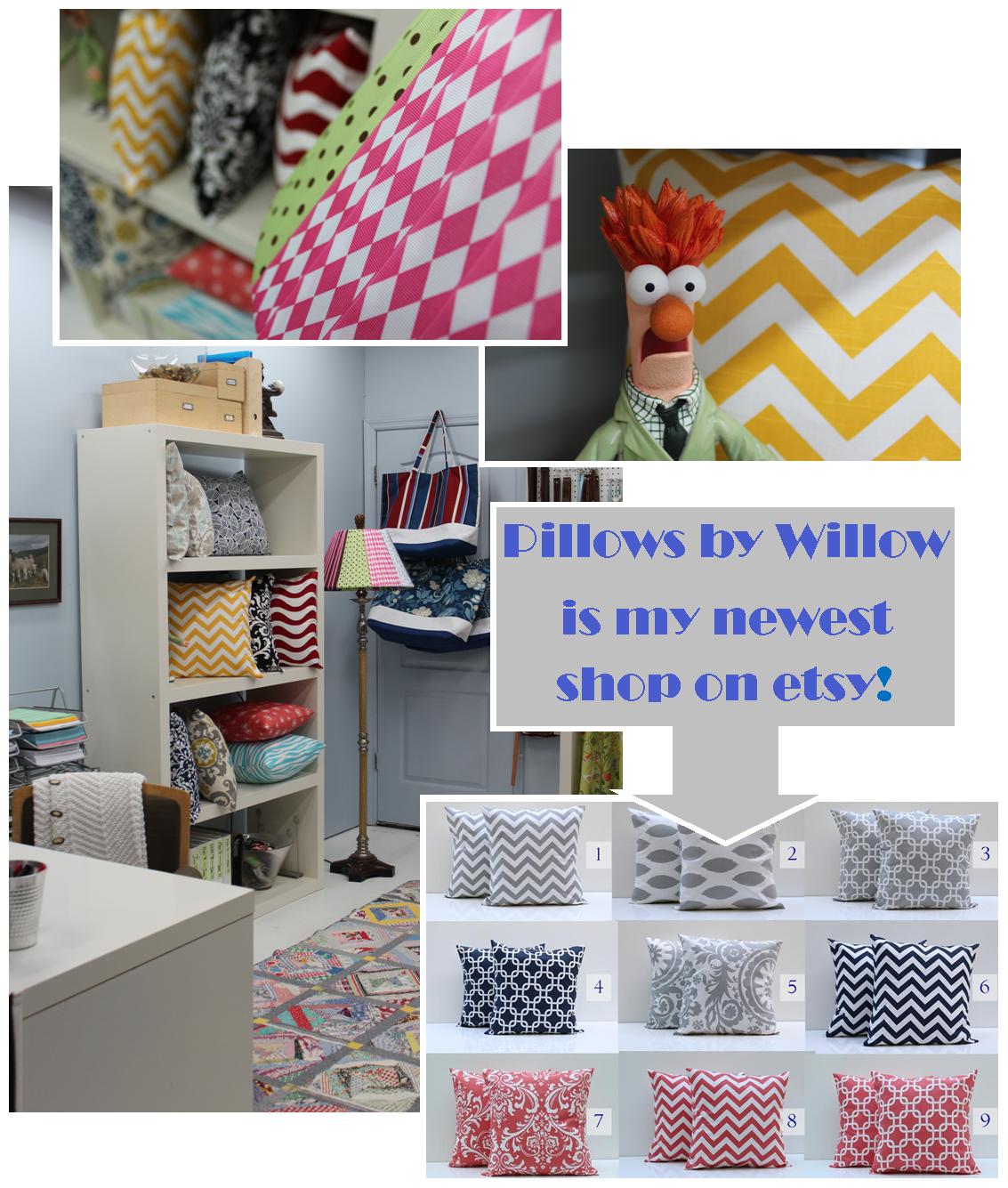 4. Approximately how many hours per day/week do you spend in your studio?
I spend a lot of time in my studio.  During the busy buying season I easily spend 50-60 hours per week there, and around 30-40 hours otherwise.  It really just depends on what my shops are doing.  I have recently opened up another shop called Pillows by Willow.  This is a collaborative endeavor with my mother-in-law, Dorine.  With this shop she is my expert seamstress and I handle all business and creative decisions.  I am surprised how quickly Pillows by Willow is getting noticed.  So my hours in the studio might just double in the months to come, but I'm not worried.  Apart from my husband and I, my extended family is very talented and creative so I know we will all just come together and keep working at this.
5. Do you have any tips or advice on how to maintain an inspiring and functional workspace?
Inspiration is necessary if you want to accomplish turning your passions into work.  I don't know anyone who can create AND work in a space they find uninspiring?  My advise to others who would like to turn their hobby or passion into a money maker needs to figure out two things.  You need to decide what makes you smile and what motivates you.  Take these and then put it into your space.  Big or small we can all benefit from our space's personality.   For me, design and organization are the keys to my inspiration, happiness and motivation.  Take for example, my antique bookcase and mannequin.  All of my fabrics are neatly folded and stacked – this is the neat freak in me, but the designer in me must have the colors arranged in a complimentary fashion.  The items on top are attractively placed but also accessible.  My mannequin is smartly dressed with more shop supplies (spools of ribbon, spools removed of course) and some of my signature jewelry.  For me, the combination of order and style, is necessary.  First order then style!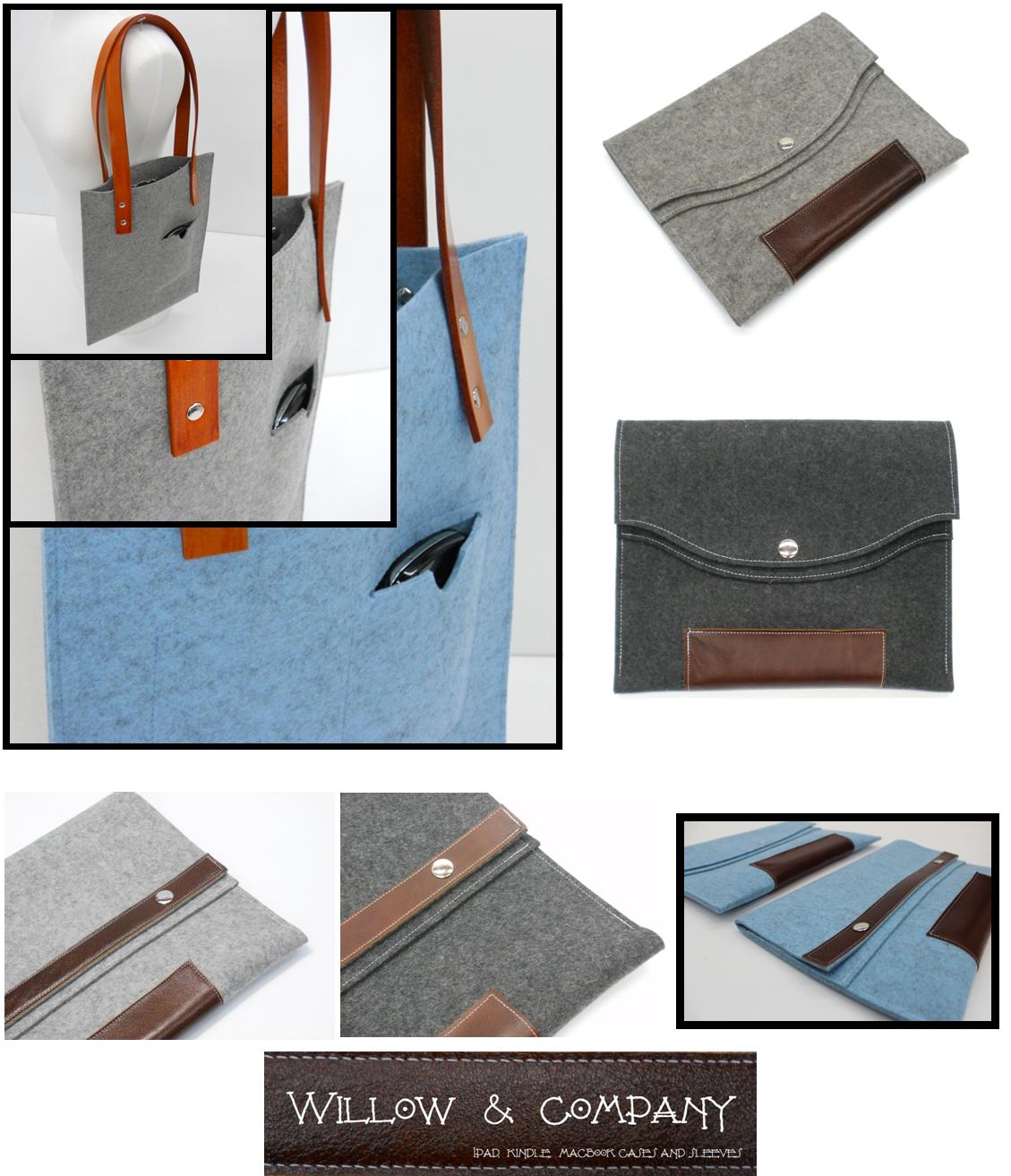 6. Do you have any future plans for your studio?
Truth be told, my life would be meaningless without future plans.  I am CONSTANTLY making changes!  I move furniture around, I repaint walls, I switch out rugs and floor cloths with the seasons.  Right now I am using antique and handmade quilts as floor cloths and I love the look they give my space.  Moving to a new space?  I would love too, but that is just the organizing maniac inside of me speaking.  The thought of taking apart and setting up a new space is exhilarating—I know, I'm crazy!  As for the moment I do not have plans to move, but you just never know!  A space where friends and clients could shop around would be great, maybe if I………..
•••••••
I want to thank you, Christa, for not only sharing your amazing studio with us, but also for sharing your story in such great detail.  I appreciate the time and care that you put into this interview, your attention to detail is a treat!  I personally was inspired by the way that you organize everything by color, but in a very neat and clean way.  I have everything organized by color, my clothing closet included, but I can take a lesson on how neat everything is.  Thank you for your order and style advise… consider it noted.  I know you have big things that your working on and I can't wait to hear more.  Do keep us updated and thank you again for sharing!
•••••••
♥♥Now for the special treat!♥♥
Christa would like to offer a discount to all of you for the months of October & November of 30% off your TOTAL purchase!  How sweet is that?!  The Holidays are coming and it's time to start that shopping.  The coupon code is ChickieWillow.  She also offers discounts to people who "like" her Facebook page and "pin" her items onto their Pinterest boards.  All you need to do is convo her on Etsy and say that you "liked" her Facebook page or with the link to the pin board on Pinterest and she will send you a coupon code for 15% off your next purchase!!!  Woohoo! What a sweet gift!
•••••••
 Be sure to check out Christa's site | Willow + Company shop | FB | Pinterest | Pillows by Willow shop | Case in Pointe | Willows Jewelry Box