05
Oct, 12
October truly is one of my favorite months of the whole year.  It starts off strong with the first day being my birthday and ends with one of the best Holidays, ever!  Everything in-between is just the cherry on top.  October is also a very busy month for me because I have a couple of craft shows to prepare for and then the Holidays come so fast.  I love it though.  This week I've been filling my days with sewing some new totes, scarves and quilts, that will all be in the shop next week (after Saturday's craft show).  I can't wait to show you everything in their entirety.  I've also been poking around and designing a new product and I can't wait to share.  I still need to finalize a few things, but I'm hoping to have it complete for the Holiday Season.
Work work work, huh?!  Well, I do manage to squeeze in some me time, of course.  I actually just had a wonderful craft day with my sweet friend Meghan of Pleasantly Plump Knits!  She came over and we had some Fall-inspired coffee and some yummy lunch, which included this pizza, before we started our project.  We had to fuel up first.  We decided to try this one hour skirt (which took us about 4 hours, because we like to chit-chat), and it was so easy and super fun!  I've made skirts before, but nothing this easy, seriously. 
This was Meghan's very first wearable item that she's made for herself and she nailed it!  I'm so impressed and proud that we did it on the first try.  We've both been super inspired to make more of these skirts to wear year-round.  In fact, Meghan has already ordered and received some cute fabric for her next one.  I inherited a huge bundle of vintage fabric from my late grandmother and another bundle from my aunt, so I'll be putting all of that to good use – I promise.  We've actually already set up our next craft day theme – Halloween Costumes!  Are you sooo excited?!  I know we are.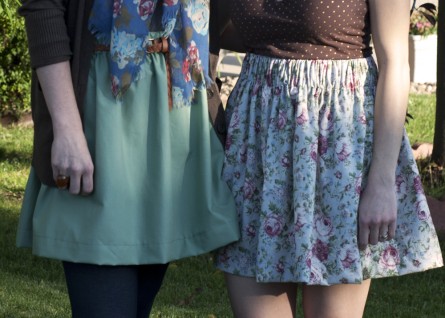 Although I have a lot left to do, I feel like I've accomplished a lot, both professionally and personally.  I had an amazing Birthday weekend, with the help of my amazing family and friends.  And that has left me inspired and ready to take on the busy week that lays ahead.  The house is clean, my mind is buzzing and my heart is happy.  I couldn't ask for more right now. ♥R
P.S. || My momma, cousin and I will be at the Fall Craft Show at the Adams County Fairgrounds tomorrow, Oct. 6th from 9am-4pm.  $2 admission (12 + under are FREE), with FREE parking and food for sale by the 4-H kids.  Hope to see you there!