06
May, 13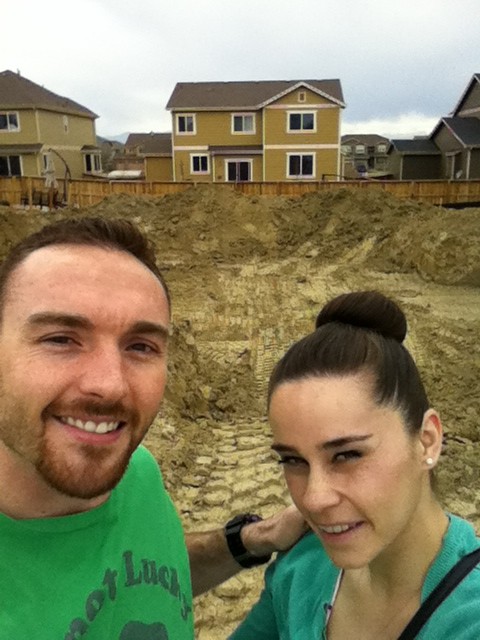 Yesterday Ron and I made the decision to buy a new home!  As you know, we've toggled back and forth for quite a bit and we finally decided that a new home best fit our current needs.  Now, nothing's final until it's final, but we did sign the contract yesterday and everything is contingent on the successful closing with the buyers of our current house, so we just have to wait and see.

This is a photo of where our house will be in about 5-6 months.  It's a long wait, but it will be worth it.  It's just a hole in the ground now, but it will be exciting to see the process of it being built.  I can't wait to share more progress photos along the way.

It's so crazy how different it was when we bought our first home nearly 7 years ago.  We were still in college and moving from a one-bedroom apartment in south Denver to a three-bedroom home in the suburbs, just north of Denver.  When we first saw our current home, we just knew that this was the place that we wanted to be.  It was perfect!  All of our belongings fit in one medium-sized U-Haul truck and we moved right in.  The last 7 years in this home have been amazing!  I'm really going to miss everything about it, especially being able to view the fireworks from our back yard every 4th of July.  We do plan on growing our family one day, and we're out-growing this home, so we needed to find something larger.  This time around, finding a new home wasn't as easy.  We had higher expectations and didn't want to compromise too much.  We need a certain amount of space to fit our needs.  Our first house was easy – it was larger than our apartment and it had a garage and a yard – perfect!  Now, we expect to have those things, along with other things, like more bedrooms, a third floor, a third garage, a larger backyard for the pups and a formal dining room for entertaining.  It will also be nice to be able to customize this home before we move in.
Again, nothing is set in stone, but it's an exciting start to this adventure none-the-less!