12
Jan, 11
Today I wanted to chat a bit about wedding photography.  One of my dearest friends is going to be walking down the aisle in just a few months, and I couldn't be more happy for her.  I believe that having a photographer is very important, but not everyone can afford a professional one.  This is completely okay!  My pal is lucky enough to have a few friends who know a thing or two about photography, so she doesn't have to skip out on the whole photography session altogether.  Our wedding photos are priceless to us, because a lot of moments where captured, that we didn't actually experience the day of the wedding.  We have the chance to relive the day again and again.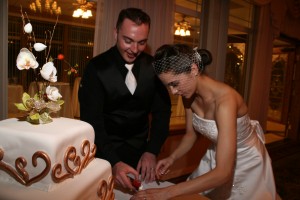 We did have a professional photographer, and we still didn't get the shots that we had discussed prior to the wedding with our photographer.  So, having friends and family pitch in to capture your big day wouldn't be a bad idea at all.  They might have better insight on who to photograph and at what times.  Whether or not you're thinking of having a professional or your pals do the photography, here are a few things to think about:
• Meet with them prior to the wedding and make a list of what you want shots of.  Be sure to mention everything from the close-ups to the family shots.  (Ron and I did this, and we were still very disappointed in our photographer for not listening, but it's still a good idea to do.)
• Make sure your photograpgher has back-up batteries, lenses, etc.  Things can go wrong and if they do, your photograpgher should be prepared.
• Be sure that your photographer turns off the sound to the camera.  The beeping can be very distracting, especially in those intimate moments.
• Your photographer must be able to take charge, but not be mean.  Be sure not to pick a pal that is quiet and shy, because you will not get the photos you deserve.  You need someone who can give clear direction, without being rude.  They should also be able to have fun!

• Lighting is key, so be sure that you pal knows this!  I can't stress this enough.  Your photographer needs to know how to bounce the light off of other surfaces, because your flash is often not enough.  Or it can be too harsh.
• Have your photographer mix up the angles.  Have them shoot from up high, down low, or at an angel to capture the feel of the moment.  This will add depth and character to your album later on.  Continuous shooting mode can also be very useful.  This way every moment is caught.
Thanks!  RobbieLee