14
Aug, 11

Meet Alejandra of Doe a Deer!  Today we will be peeking into her studio to see where she makes all of her cute dog collars, leashes, bags and zipper pouches.  Yay!  Alejandra and I met not too long ago and what drew me to her blog was her complete honesty.  She writes about what she knows, and she doesn't try to impress.  Ironic how that becomes impressive and very refreshing, isn't it?!  She's a very sweet and creative soul, so let's see what makes her tick…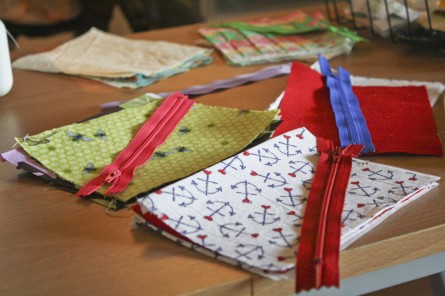 1. Who are you and what do you create/do?
My name is Alejandra, and I own a small business; Doe a Deer–I create accessories for women and their dogs, including purses, pouches and clutches; collars, leashes and doggie bandanas! I offer more muted styles, but most of what you'll find is bright and boisterous–something that will call everyone's attention.
2. Where is your studio located? (in your home or somewhere else?)
As of right now, I just have a small home studio–about 500 sq ft. We live in an apartment and don't have much furniture, so I fill up the entire space of what would be the living & dining rooms.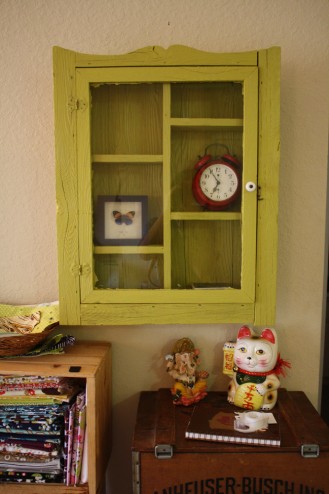 3. How long have you had your current studio space?
As long as we've lived here–about nine months. And we're due to move again. (sigh!)
4. What is your favorite part of your studio?
Tables. You can definitely never have enough. I like to have one for sewing and organizing the queue of things to be sewn, and one for cutting. Storage would have to be my second most favorite, and of course you can never have enough of that, either! When you make a myriad of different things, it's a lot of fun trying to find items that will fit best–right now I'm using a large coat rack that I got for $3 at Goodwill to hang the bags I make.
5. Approximately how many hours per day do you spend in your studio?
12+. Being the sole mind & creative force behind any small business is harder than you could ever imagine, but so worth it.
6. Do you have any future plans for your studio space? (i.e. revamp, new location, etc.)
New location, please! Right now my significant other is job hunting, so it's possible we could relocate to the other side of the country! We'll just have to wait and see. My wish list for a new studio: A dedicated room with beautiful wood floors, large windows (skylights a plus), vaulted ceilings, and built in bookshelves & storage. A girl can dream, no?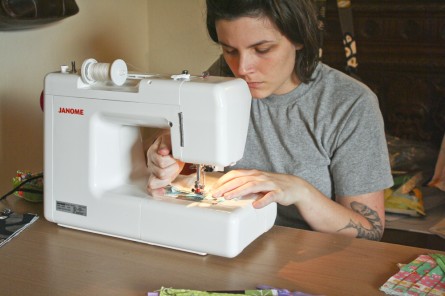 7. Is there anything else that you'd like to share?
I hope you'll visit me at my blog, Doe a Deer. I love making new friends and sharing our adventures!
Thank you so much for sharing your space with us, Alejandra!  I love how you work with what you have.  I feel that our studio spaces are always evolving and growing.  While in college, I too used the dining room, in our one-bedroom apartment, as my complete studio.  Our apartment was small, but the Mr. and I made it work.  I really have to thank him for putting up with that mess for two years!  Your space is great and I hope that you will let me know if you move and get a new space!  Please share!