06
Feb, 11
Hey all!  it's that time again where I take a little peek into someone's studio space,  Yay!  I stumbled upon Becky's blog, Strumpet's Crumpets, a few months ago and instantly fell in love.  I thought to myself, this girl and I have a lot in common, so why not invite her to share her studio space with all of us!  Becky happily agreed, and that's how this sweet little post came to be.  Before we dive into her space, I wanted to share a little tidbit on how she named her blog ('cuz it's a cute story!).  Becky and her sis talk about opening up a cute little tea shop, and one day Becky came up with the name Strumpet's Crumpets.  At first I didn't get the depth of this, I just thought it was cute.  But as I read on about her, I realized that it's quite a funny play on words.  A Strumpet is a female prostitute, so when you mix that with Crumpets (as in tea and crumpets), you get pure creativity and quirkiness!  I personally love it and no, Becky and her sis are not Strumpets by any means, it's just funny.
So, on that light note, I introduce to you some photos from Becky's studio space in Florida.  Enjoy!
Here are a few of my questions that Becky answered about her and her sweet space:
1. Tell me who you are and what you do.
Hello My Name is Becky Farley! I blog all about my crafts and adventures on Strumpet's Crumpets! I love to constantly have a project in my hands – crocheting, sewing, embroidering, you name it!
2. What is your favorite part about your work space?
I love that my craft room is right at home, though honestly it spills out into the living room OFTEN!! But who's doesn't?! I love that I can share my love of crafts with my fiancé's little boy, he's 6 and is quite the crafter! I'm very thankful to come home after a long day at work and craft my heart out!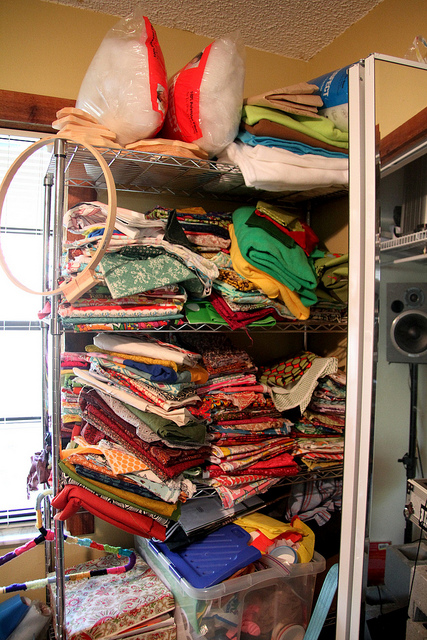 3. How long have you had your current work space?
I've had my current work space for over a year! It's ever changing!
4. How do you stay inspired in your work space?
First I open the curtains to let all the natural light in, check my favorite blogs, turn on my favorite tunes and go to town! 🙂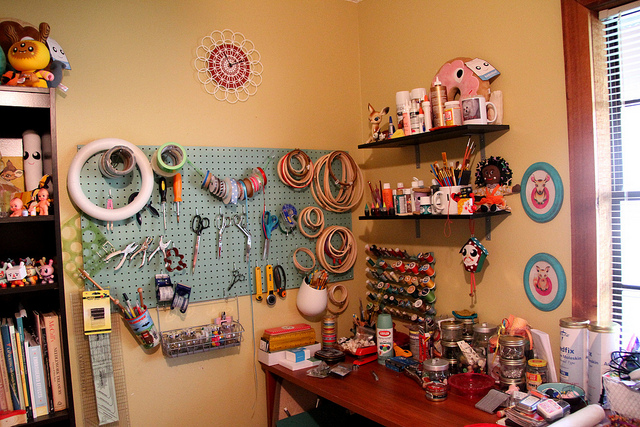 I want to thank Becky for allowing us to take a peek into her creative and colorful studio!  It was a blast.  Be sure to visit her cute little blog and I'll see you later!
♥ RL