01
Apr, 12
Can you believe that it's already April?!  The year is flying by.  April is a lovely month and what better way to kick it off than with a {studio sunday} with a very talented lady…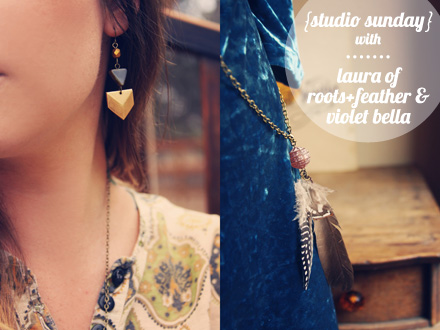 1. Hi, Im Laura Mazurek, jewelry designer and lifestyle blogger.  I have two jewelry lines, Roots & Feathers and Violet Bella.  I run a blog where I talk about my daily life, my business, my animals, and many times my deep down emotions.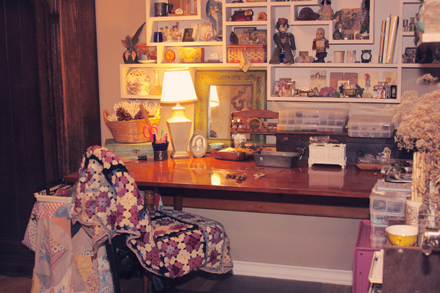 2. My studio is an extra bedroom in my home, along with half of the livingroom.

3. We just bought this house in April of 2011, so it's still very young!

4. My favorite part of my studio is my wall shelf my dad built that is full of little trinkets that remind me of my parents.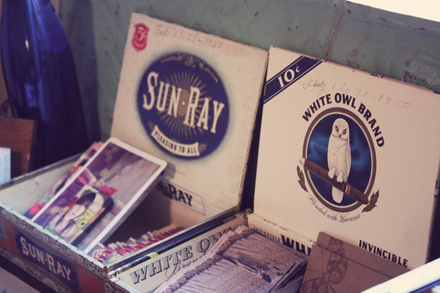 5. It depends on the day to how long I spend in my studio.  If I'm working on a big wholesale order and I am feeling very inspired to create new things, I can be in there for hours straight and not know it.

6. I've always dreamt of having a nice big clean studio with lots of windows and light… Maybe one day.

7. I think creating a studio space that you feel at home in and inspired by is truly important for successful creating. 
Thank you so much for sharing your lovely studio, Laura!  I love how you surround yourself with things that remind you of your family and that inspire you.  Oh, and that shelf that your dad built is indeed very beautiful!!!  I agree, your workspace is extremely important when it comes to successful creating – and it shows that you are doing it right for you and your craft.  Beautiful work by a beautiful lady.  Thank you again. ♥RobbieLee
If you've enjoyed peeking into Laura's studio, you might be interested in seeing a few others… here.