07
Aug, 11
It's that time again!  This week we will be peeking into Kristen Magee's studio space.  Does that name sound familiar to you?  Of course it does!  Kristen is the creative mastermind behind Paper Crave.  The site that you visit when you crave all things paper.  I love paper, as you know, but dare I say that I've found someone with a greater obsession over paper than I!?!  Yes, it's true!  Kristen fills her shop and blog with so much eye candy for the paper lover in all of us.  Now it's time to see where all of the magic happens…
1. Who are you and what do you create/do?
I'm Kristen Magee from Paper Crave, and I'm a paper lover, crafter, home cook (gluten and sugar free), and freelance graphic designer and web developer.
2. Where is your studio located? (in your home or somewhere else?)
My studio/office is in my apartment. It's technically the second bedroom, but when we moved in, my husband and I knew immediately that we wanted to use it as our workspace. Since we have to abide by all of the fun apartment building rules, we can't paint (boo) or tear up the carpet (double boo), so we went for a light, modern look. Thankfully, we have a huge walk-in closet in our bedroom, and I store most of my craft supplies in there. It means that I have to shuttle things back and forth a lot (I re-purposed my husband's old toolbox to hold the smaller supplies that I use most often, so I can just grab it and go), but this system helps me keep things more organized.
3. How long have you had your current studio space?
Just about three years.
4. What is your favorite part of your studio?
I love that my desk is right next to the window. We're 11 floors up, so the view is pretty great. I also love the cabinet that holds the printer and my die-cutting machines, scanner, and paper cutter. Everything was scattered all over the floor until recently, so it was great to get something into the space that organizes everything and keeps it off of the floor. That drove me crazy!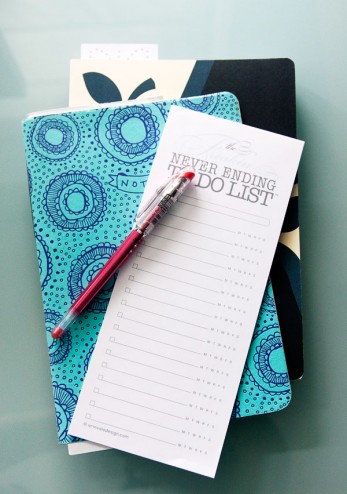 5. Approximately how many hours per day do you spend in your studio?
About 10-12 hours a day. I practically live in here, but I also like to do whatever crafting I can on the couch in the living room.
6. Do you have any future plans for your studio space? (i.e. revamp, new location, etc.)
The space is still pretty blank, and I've been itching to get more color on the walls (I really wish we could paint). For a while, I've been collecting prints, posters, and other pieces that I can hang on the wall. Now, I just need to decide where I want everything to go!
7. Is there anything else that you'd like to share?
You can also find me at Invitation Crush, where I share all things invite and over at Domestifluff, where I share gluten free, sugar free recipes, as well as some of my craft projects.
Thanks so much, Kristen, for letting us peek into your creative space!  It's nice to see where all of your creativity is bottled up and channeled out.  Keep doing what you do and thanks again!  Be sure to visit all of Kristen's sites; she has has so much to offer!