07
Apr, 13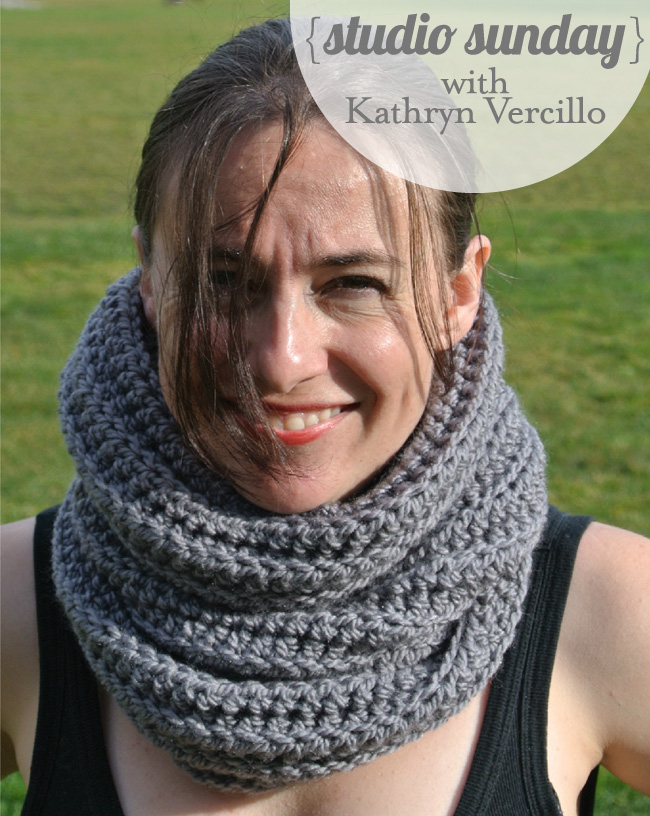 When you walk in the front door of my apartment, you walk into my studio space. That is not because my studio is right at the front door but rather because my entire apartment IS my crafty studio. This reflects the fact that I have worked hard throughout my life to seamlessly blend my work, craft and daily living into one completely artful life.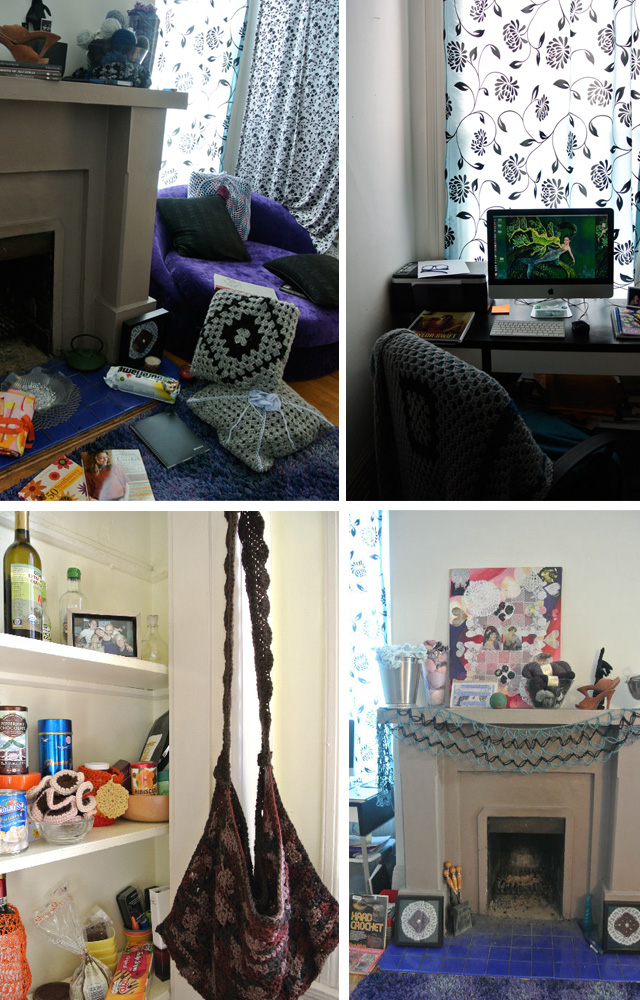 Many people prefer to separate work and play in their lives. While I understand this, it is not the path that works for me. In order to be completely fulfilled, I must work at a creative living. In order to do that, my everyday life must constantly inform and inspire my work. There is a saying by writer Anais Nin that writers "write to taste life twice, in the moment and in retrospect". I think that there is truth in this; everything that we are doing throughout life is a unique experience and one that we re-live again and anew in the writing.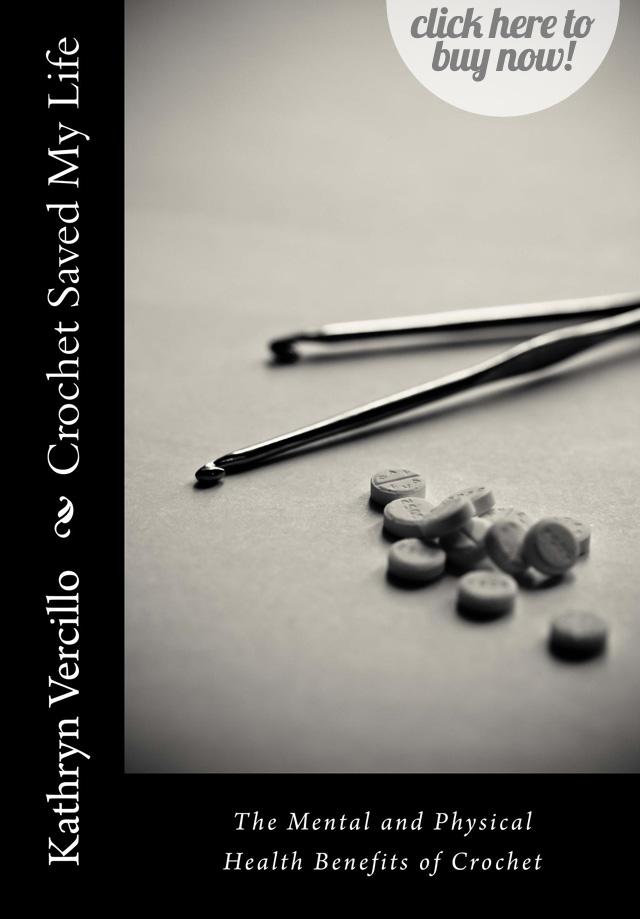 Yes, I am a writer for a living. I write a variety of different things but in recent years have come to focus on the craft of crochet and how it can be used to tell stories, connect people and offer healing to both individuals and communities. I blog at Crochet Concupiscence, writing about all things related to crochet. Last year I published a book called Crochet Saved My Life, which is about the mental and physical health benefits of crafting. And right now I'm at work on Hook to Heal, a book of creative exercises designed to help people use crochet to gain self-understanding, honor their inner artist, improve their relationships and enhance their total quality of life.
I first learned to crochet as a child but didn't really start to do anything with it until a few years ago. At the time I was dealing with the worst period of a lifelong battle with depression. I figured out that crochet offered me a safe space to relax, stop the ruminations of the mind, practice self-care and otherwise heal myself. There's a lot more to the story than that, of course, but basically crochet really did play a role in saving my life and I honor that by trying to help others figure out how to utilize their own creativity in healing ways.
I believe that being creative is the best way to live life. For me, it is the only way to live life. Perhaps that's why it is so important to me to work creativity into all that I do. One way for me to do that is to live in a home where creative tools are always at the ready.  That said, there are four main crafting areas in my home: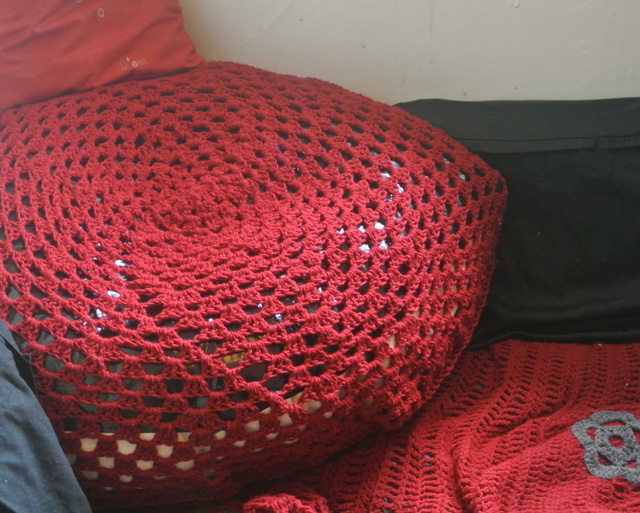 •    My cozy corner niche. I have created a comfy crochet-covered corner in my bedroom. There is a pile of crochet blankets on the floor that offers terrific padding for cuddling up. There is a crochet-covered beanbag chair. This is where I usually keep my latest crochet project going. It's the perfect place to just snuggle up and crochet away. Usually my laptop is on with either a mindless TV show or some Spotify music. There is a window in this corner so on nice days the window is open to let in fresh air. This is also an excellent place to catch up on craft-related reading and research!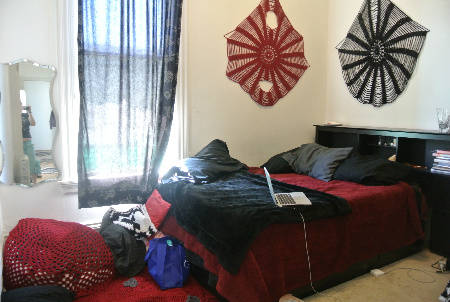 •    My bed. This offers the same coziness as the comfy corner. I actually try not to work in bed too much. I work from home and while it's important to me to seamlessly blend my work and play, I also realize that it's not healthy to spend large portions of the day in bed. That said, when I'm winding down in the evenings, I'll often switch to the bed for a more relaxed crochet project.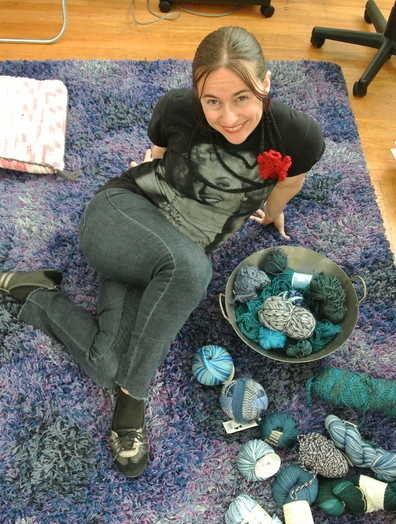 •    In front of the fireplace. My very favorite part of my studio/ apartment space is the rug in front of the fireplace. The whole area is surrounded by old washbasins and other tub of yarn that are sorted by color which I find very inspiring. The space is large enough that I can spread out all of my different crafting supplies. (In addition to crochet I also do lots of collage work, scrapbooking and sometimes other crafts.) I can also spread out notebooks and calendars when working on planning out blog posts or doing research. I wish everyone could have a crackling fire in the fireplace as they work in their studios; I think it's perfection!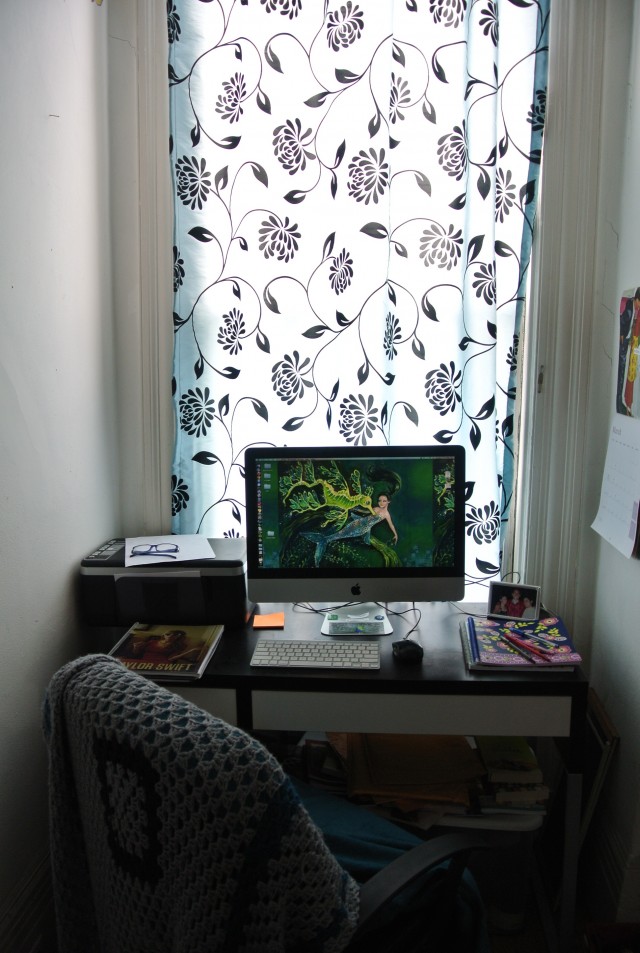 •    My desk. Of course, my actual writing and blog work typically gets done while sitting at my desk. My desk takes up a small corner of my living room. It's well-organized and simple. I have a few personal touches there to inspire me, though. One is a favorite photo of me with my siblings. Another is a gorgeous picture of a peacock that I've taped to my computer stand. A third is a recent fortune cookie fortune; I change that out when I get a new one that seems more fitting to the time. And finally there's my computer wallpaper, which changes now and then but is currently an image of a girl with a leafy seadragon, which is my favorite animal. As a random aside, I usually use funky non-serious notebooks for taking notes; think Lisa Frank.
Living alone and working for myself allows me to have a situation where my studio space is my living space. This works for me. It won't work for everyone, but I do suggest finding small ways to incorporate your crafty/ work life with the rest of your life. For example, inspiring photos from your "everyday" life can be great in a studio space. Likewise, a few crafty tools (such as a yarn and hook) kept on a table in the home or a drawer of your desk can bring creative moments into your non-crafty life.
I love to hear from others so feel free to visit me on Twitter, Facebook or G+. You can also learn more about my random daily thoughts on my personal blog, Diary of a Smart Chick.
•••••••
Kathryn, thank you so much for taking the time to share your studio and living space!  I love that you actually surround yourself with what you love each and everyday.  I think it's incredibly important to stay motivated and inspired throughout your day, so why not start at home.  I also love that you write to inspire others.  That's an art all in itself.  Continue to do what you love and keep your creative space lovely.  Thanks again for sharing!