14
Apr, 12
Meet Charlie at Polka Dots Are Love!  She's a wife, crafter and vintage lover who has an amazingly beautiful studio space to share with us on this fine Sunday.  I really enjoyed peeking into her studio because its green and big!  She has so much space to create… see for yourself!
1. Who are you and what do you do?
Hi! My name is Charlie and I am the girl behind Polka Dots are Love.  I spend my days creating fun and colorful things for the shop and my nights adventuring through thrift stores in search of awesome finds (or just reading a book). I share these adventures and a little more on my blog!

2. Where is your studio located?
My studio is an extra bedroom in my home.

3. How long have you had your current studio space?
I have had this space for about 2 years. I have really grown into it and made it something I love.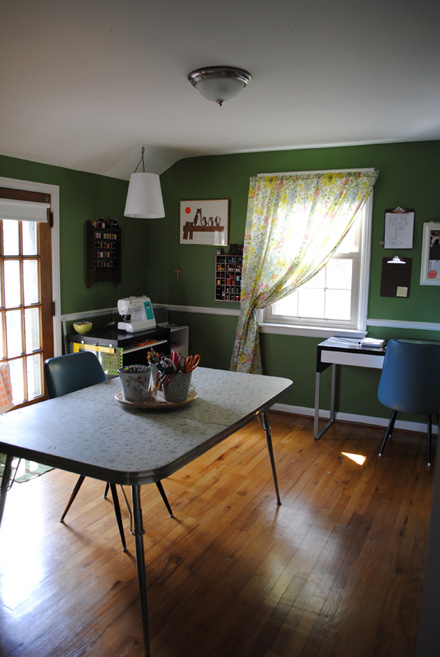 4. What is your favorite part of your studio?
My favorite part would have to be the kitchen table I use as my work table.  It was my grandmother's and I love having a piece of her in my space.

5. Approximately how many hours per day do you spend in your studio?
It all depends on what I have going on that day, but I do know that more often than not I spend an entire day in there without even realizing it.

6. Do you have any future plans for your studio space?

My studio space is always changing. I would like to maybe paint it, but I can never decide on a color… so green it stays!

7. Is there anything else that you'd like to share?
Thank you for taking the time to check out my studio, and thank you RobbieLee for having me!

••••••••••••

You are very welcome, Charlie!  Thank you so much for sharing your beautiful and inspiring studio.  I love how much open space you have and the green walls are the perfect color, in my opinion!  I also really love how you used the door-hanging shoe rack to store all of your little supplies – clever.  Keep creating your lovely items and thank you again.