09
Sep, 12
Happy Sunday!  Today we'll be peeking into Becky Kemp's studio to see where she creates her work for Sketch.inc.  I can't wait for you to dive in.  Her space is so open and full of natural light, it might make you a little jealous…  I really love how she surrounds herself with lots of colorful items, many of them being her own creations!  Let's get to it, shall we?!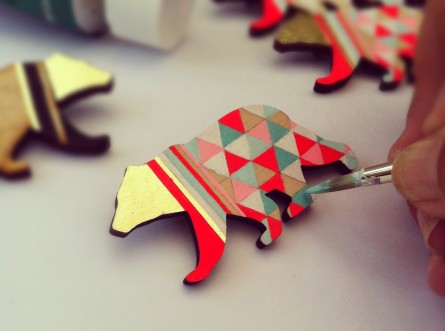 1. How long have you been creating your brightly colored geometric pieces? What's your inspiration? When did you decide to start selling your work?
I've been painting and Sketchbooking all my life. I have had a few gallery shows over the years but nothing that was going to enable me to dedicate a full-time job to it. I opened my Etsy Shop at the end of March last year and in April of this year gave up the day job to concentrate on my passion 'Creating'.  My Sketchbooks chronicle every doodle and idea that pops into my head, I love Japanese animation, abstract expressionism, wrapping paper, textile patterns and anything  else I can get my hands on.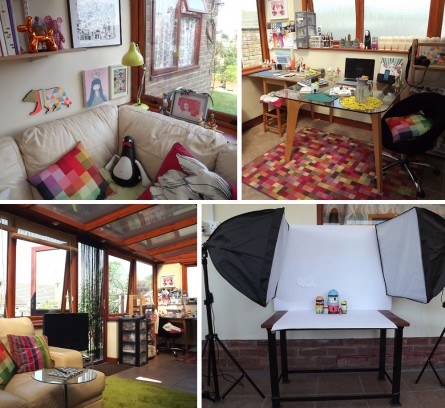 2. On to your studio, where's it located?

I live and work in the southeast of England and my Studio is an extension at the back of the house. 11'x23' it's a long room with tiled flooring and large square windows giving me plenty of natural light which is vital living in the U.K and a world away from my previous Studio in a dark cottage in north Wales.

3. What's your favorite part of your current studio space? Why?
Probably my old sofa by the window. Inspiration corner as I like to call it. Comfort is key to keeping me motivated, and yes I have fallen asleep on this sofa with pen in hand and woken to find ink all over my face. This cozy corner has everything to hand; books, wifi, TV and my favorite inspiring pieces.
4. Approximately how many hours per week do you spend in your studio?
I usually spend 60-70 hours a week in the Studio, but often take my work outside when the weather permits. The room looks out onto the garden and cornfields so it's very peaceful when the studio decides to go al fresco. The kitchen is also at the back of the house so I don't have far to travel for meals and the Post Office is a 10 minute walk down the road, I could not have planned it better if I had tried.
5. Do you have any tips or advice on how to maintain an inspiring and functional workspace?
Everyone works very differently. For me I like a well-lit room, to be surrounded by my favorite images, splashes of colourful stationary, iPhone docked and ready for Genius mix  and well-organized storage, the rest is often pretty chaotic to the visiting eye but at least I know where everything is even if no one else does.
6. Do you have any future plans for your studio?

I love home improvements! Some extra shelving and storage space would be great but a mini fridge next to the sofa is top of my current wish list. I would like to say that it's for my photo emulsion and acrylics but really a few ice-cold Corona is closer to the truth for those tight deadline nights.
•••••••

Becky, thank you soooooooo much for taking the time to thoughtfully answer all of my questions.  Your answers paired with your amazing photos are truly inspiring to me and my readers.  Your studio shows the dedication that you have to create what you love and nothing less.  Keep doing what you do and I can't wait to see what you create next!  After looking at your amazingly organized studio, I need to go clean mine… again.  haha!  Thank you again! ♥R

•••••••
Please take a moment, if you haven't already to stop by and visit Becky.