15
May, 12
Hello there and Happy Tuesday to you and you and you!  I just wanted to let you know that I will be updating the shop on Friday!!  There will be new Roblin paintings and new Roblin Tees in Coral, Lime and Black, so I'll let you know when everything is up.
In other news, my youngest brother will be graduating from High School on Saturday!  Sheesh, I can't believe that my sibs are all done with high school… I'm so proud of all of them. Then  Mr. Ron's Birthday is soon approaching, so we have plans that I can't discuss at this time… wink wink*  Then my mom and I are prepping for our next craft show in July.  We are staying busy, I promise!  Oh, I almost forgot, Ron and I are going on vacation in July, too!  It's very much needed and I can't wait!
Anyhoo, I'll keep you posted on the shop update and I hope you have a lovely day! ♥RobbieLee
P.S. I'm going to co-teach my second claymation class tomorrow!  So exciting!
03
Mar, 12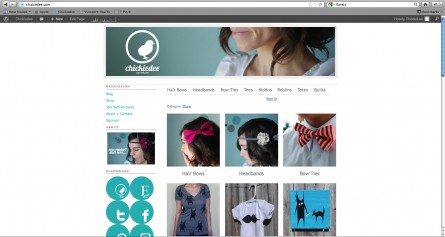 The Mr. and I have been hard at work with the shop and blog updates and are so excited to finally share them with you!  The shop and blog look as though they are one now, and that makes me very happy.  The old shop has been up since 2008, can you believe that?!  It had a good run, but as I'm growing and transforming, so should the look.  I hope you have a minute to poke around and see what's to be seen.  Oh!  And other than the new look, there are some new products as well.
As always, let me know what you think and have a super day! ♥RobbieLee
01
Aug, 11

It's official, all!  Chickiedee | Modern Apparel for Babies has successfully transformed into Chickiedee | Handmade!  I still make the same baby items that you all love, I've only added more products for the ladies too.  I've added paintings, headbands, larger quilts, and tote bags.  This is just the beginning, because this Fall there will be even more!  I'm so excited to share what I've been working on and I thank you for being so supportive throughout this little change.
It's also very important for me to stress that I'm still using as many sustainable materials and practices as possible.  Both your family and the environment are extremely important to me and how I choose to create.
Be sure to stop by the shop and check everything out.  There are new items in the Sale section and you will receive a free gift if you spend $55 or more.  Feel free to come back here and leave your feedback.
Thank you so much again and I hope you enjoy this new adventure along side me.